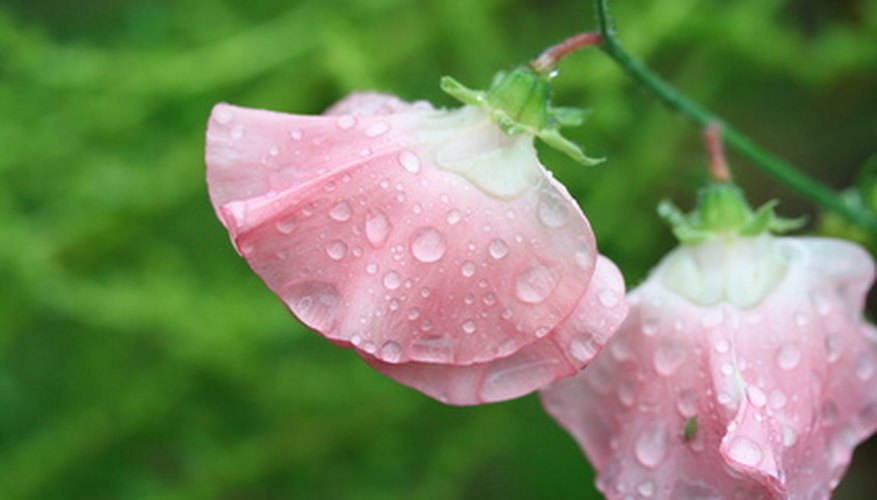 The sweet pea (Lathyrus odoratus), a fragrant annual, puts forth three to four flowers per stem in a range of colors depending on the type. While sweet peas are simple to care for once established, the thick seed coating makes them challenging to germinate. Increase the success of your seed germination with a bit of extra preparation and patience. Sow your sweet peas indoors and transplant to the garden after the last frost to enjoy the blooms by early summer.
Begin in mid-October. Place the seeds in a bowl of lukewarm water and let them soak for three to four hours. Drain the seeds and pat them dry with a clean paper towel.
Divide the seeds into those that have swollen up from the bath and those that are still hard. Gently rub the hard seeds with sandpaper on the opposite side of the seed's eye.
Fill a six-inch pot nearly full with a potting compost. Plant five to six seeds per pot to a depth of a half-inch evenly around the soil surface.
Water the pot until the soil is as moist as a damp sponge and cover with damp newspaper. Place the pot on top of your refrigerator, water heater or a germination mat to heat the soil. Once the seedlings emerge from the soil, remove the newspaper and move the pot to a cold frame or greenhouse for winter.
Keep the soil moist during dry periods and let the temperature of your greenhouse or cold frame hover just above freezing to promote shoot development. Pinch off the top two leaves once four leaves have grown. This will encourage bushy side growth.
Things You Will Need
Bowl

Paper towel

Sandpaper

6-inch pot

Potting compost

Newspaper

Cold frame or greenhouse
Tip
Transplant your seedlings to a sunny garden location.