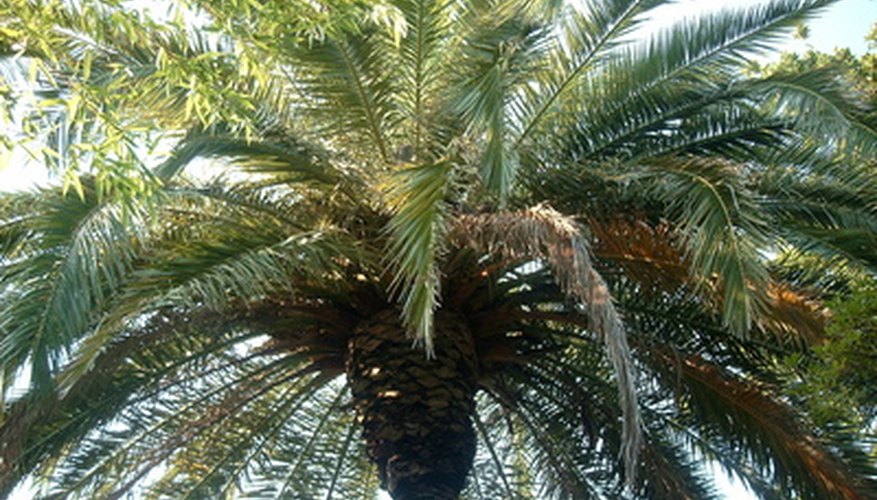 Growing palm trees from seed can be challenging but well worth the effort. Even professional growers struggle with this plant as seed germination can be slow and irregular. However, nearly all palms must be grown from seed because there are no other propagation options, advises the University of Florida. Get started by contacting local nurseries to find out what kind of palm trees grow well in your area. Research seed suppliers and only buy from an experienced and reputable firm.
Lay your seeds out and test each one to see whether it is worth planting. Firmly pinch the seed with your thumb and forefinger. Discard a seed if it's soft and easily crushed. You can also discard green seeds as they will not be mature enough germinate. Put the rest of the seeds in a bowl of water and let them soak for 24 hours. Soaking the seeds increases their chance of germination.
Make your potting mix by blending together equal parts of the potting soil, peat moss and perlite. Add the potting mix to the planting container so that it is three quarters full. Evenly space the seeds in the container and cover them with potting mix to the just below the top of the container. If you have bought several varieties of palm seed, each type should be planted in a separate container and labeled.
Place the planting container in a warm, humid location. The ideal environment will have at least 65 percent humidity and be 80 degrees F or more. A greenhouse is definitely the best spot if available.
Add only enough water to keep the soil damp. You will need patience now as the seeds can take up to 12 months to germinate. Maintaining constant soil moisture, humidity and temperature will ensure the best chance of success. When the seeds do sprout, let them grow for a few weeks and then carefully transplant them to separate containers. Allow the seedlings to grow indoors for 18 to 24 months before planting them in your garden.