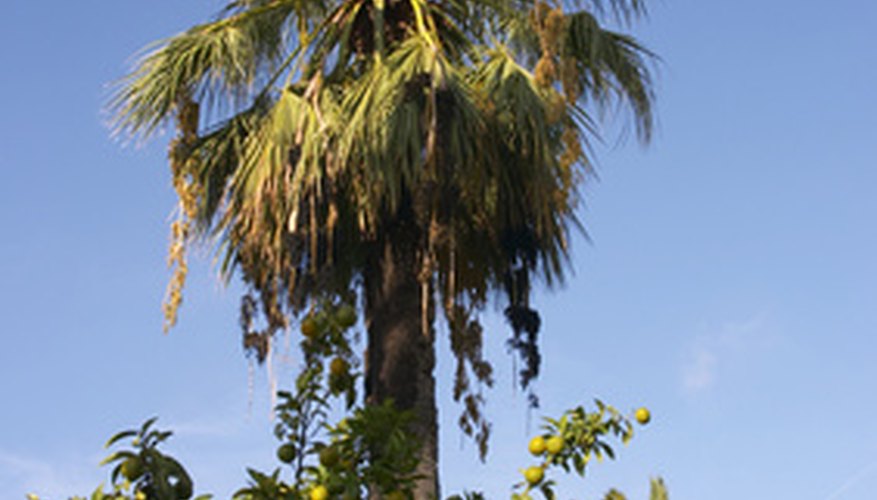 palm tree and oranges on tree image by Miguel Angel P from Fotolia.com
For northern gardeners, winter means frost and snow. But gardeners in milder areas that do not experience frost can transplant trees during the winter without any trouble, and those in temperate areas can transplant in late winter when frost danger has passed. Trees fare well when moved in winter since most are dormant and do not have new growth that could be damaged. Transplant on an overcast day to avoid stressing the tree out with too much sun and heat.
Water your tree for three days before the transplant date. In the meantime select a good location to transplant that allows the tree room to mature and provides well-draining soil.
Prepare the hole at your new location. Dig a hole that's twice the size of the tree's root ball. If you're transplanting a container tree you can easily determine this, but if you're transplanting a yard tree, use the estimate of 9 to 12 inches of root ball per inch of tree trunk diameter, suggests GardenLine.
Dig your tree out of its location on the third day. Begin working at twice the estimated distance of the root ball and dig down with your shovel. Slowly work closer to the root ball; once you see the roots--let their shape guide your digging. Continue digging until you've dug far enough down to remove the tree.
Tug the tree out of the hole by grasping its trunk. If the tree won't come, cut any remaining roots with a flat spade. Then lift the tree out and carry it over to its new location. Place it in the prepared hole.
Fill in the hole with soil without compacting it down. Once the tree's been planted, water thoroughly to compact the soil naturally.
Things You Will Need
Water

Shovel

Measuring tape

Flat spade