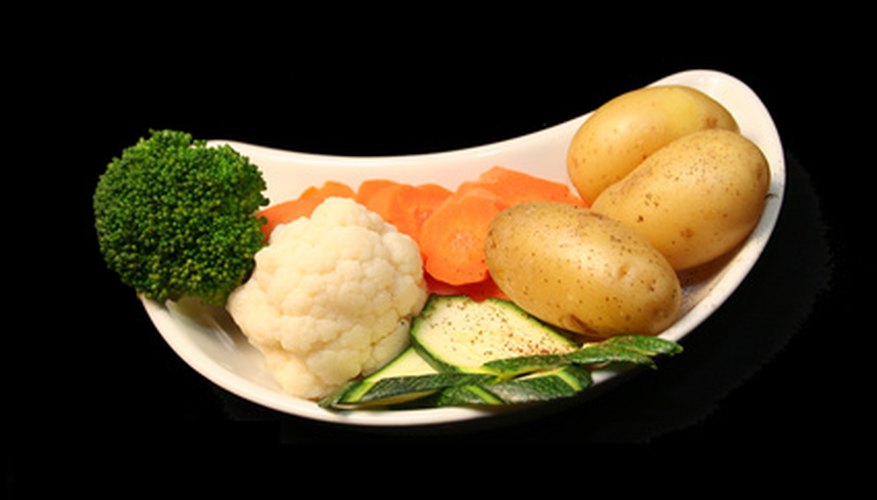 Meals that include fresh fruits and vegetables from your garden are satisfying as well as healthy. But before starting to grow your own produce, take the time to research and prepare a plan for your garden and orchard. Advice on choosing plants that grow well in your area is only as far away as the nearest garden center or nursery. They should also be able to provide seeds, plants and any other supplies you need to get started.
Growing Vegetables
Select a level, well-drained location that gets plenty of sun--at least six hours a day. Place wooden stakes to mark the corners of the plot and completely remove turf grass and other plant material down to a depth of about 6 inches. Loosen the top 4 to 6 inches of soil and cover the plot with at least 4 inches of compost or manure. Lightly dig the organic material into the soil and allow the plot to rest for several days before planting.
Make a sketch of the plot and refer to the "Vegetable Planting Guide" published by Colorado State University Extension to determine the correct row spacing for the vegetables you have chosen. Add the rows to your drawing and label where each variety will be planted.
Level the plot by rake and use the stakes and string to mark out the rows according to your plan. Pull the soil into a mound roughly 6 inches high along the full length of each row. Read the planting instructions on each seed package and sow each variety at the recommended spacing and depth.
Water the garden with a fine mist after planting to keep the soil and seeds moist. Vegetables need at least 1 inch of water per week and this should be directed to the soil between the rows, not the plants. Soaker hoses laid between the rows provide effective irrigation and save time. Weed your garden regularly and watch young plants for any signs of insects or disease.
Growing Fruit Trees
Contact your local county extension office or nursery to find out which fruit trees are recommended for your area. Buy high-quality trees and ask if they need cross-pollination to bear fruit. If this is the case you will want to plant more than one.
Choose a sunny site with good drainage that is away from structures and hazards such as power lines. Space trees about 20 feet apart. Make planting holes twice as large as the root ball and deep enough that the very top of the root is just above ground level. Tamp down the soil while backfilling.
Mulch around the trees and keep them well watered. Check the soil to make sure it is draining well and not saturated. It may take five years before young trees bear fruit depending on the type, according to the University of Georgia College of Agriculture.
Things You Will Need
Spade

Garden rake

Compost or manure

Paper and pencil

Hoe

Vegetable seeds

Wooden stakes

String

Garden hose