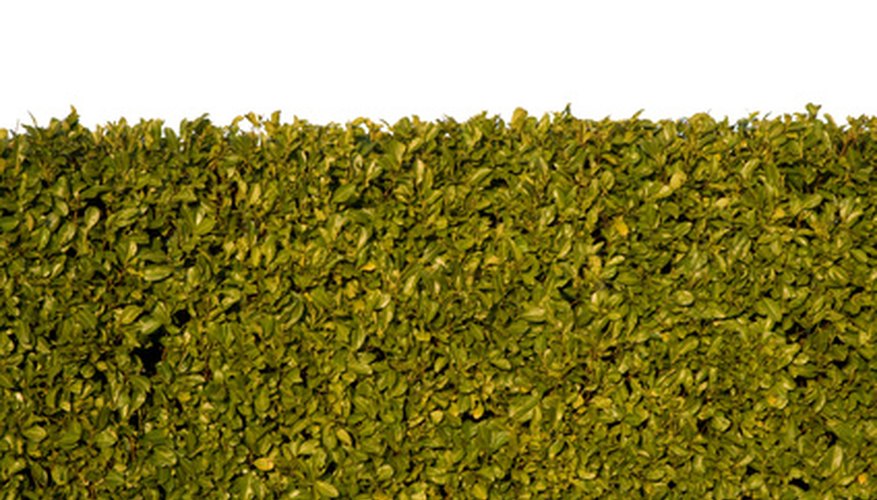 Hedges provide privacy while keeping the front of your house attractive, but a wayward hedge with excess growth does not show your home in a positive light. While other trees and shrubs benefit from annual pruning, hedges require regular maintenance. After a spring pruning, they need a second summer pruning to keep the desired shape and size. Prune in the middle of the summer, either in July or August. Avoid pruning during a heat wave; wait for an overcast day, if possible. Heat and high sun stress the plant, as does pruning; a few clouds can minimize the stress of summer pruning.
Check over the branches on your hedge for signs of dead, diseased or damaged growth. Diseased and damaged growth will be physically discolored or marred, while dead wood will be hollow and brittle. You may not encounter much in the summer, but house pets and other critters can cause breakage on low limbs, so you should always check.
Trim off any dead, diseased or damaged growth you find using anvil pruners. In between each cut, spray the pruners with a disinfectant spray. This prevents other parts of your hedge from getting a fungal or bacterial disease.
Determine the ideal height of your hedge. Then shear the top of the hedge using hedge clippers. Cut the hedge back by several inches, making it 2 inches lower than your ideal height. Work in even layers, so the shrub looks neat and not choppy. Once you've trimmed the top, you can address the sides.
Prune the front of the hedge if it's growing too bushy. Unlike the top of the hedge, this should not be an even layer. To allow all parts of the hedge shrub to receive sunlight, make the bottom wider than the top, so the shrub resembles a pyramid. Keep these proportions while you prune back overgrown branches. Use either hedge clippers or anvil pruners.