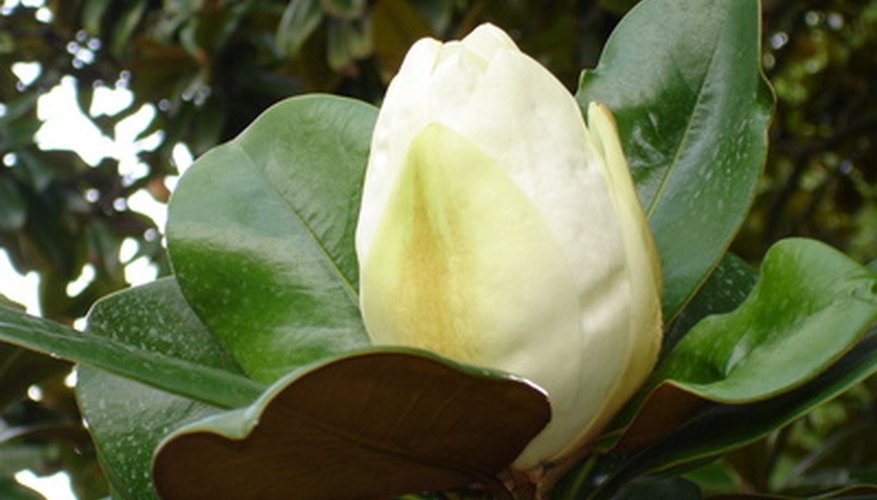 Magnolia shrubs add beauty and personality to your garden, with their waxy green foliage and creamy white blossoms. Because they do not take up a lot of room like their cousin, the magnolia tree, the shrub variety is a popular pick among gardeners. Because of their short stature, magnolia shrubs can be planted just about anywhere in your garden. They require little care and are very hardy when it comes to insects and disease.
Plant the magnolia shrub in an area in the garden that receives partial to full sun for most of the day. Do not plant the shrub where it will shelter small plants, keeping them from receiving proper sunlight.
Spread 4 to 6 inches mulch of your choice around the base of the magnolia shrub. The mulch will help keep away weeds and retain moisture. You can buy mulch at your local garden, home improvement or discount department stores.
Water the magnolia shrub regularly, keeping the soil underneath the mulch moist, not soaked. Allow the mulch to dry out between watering sessions. If the mulch is thoroughly wet for long periods of time, chances increase for fungal growth.
Add a water-soluble fertilizer to your watering sessions at the beginning of spring when the shrub begins to flower and produce foliage. Introduce a fertilizer at the beginning of each month through to the first frost of the winter. Follow the instructions that come with the fertilizer for proper dosage and best results. You can buy a water-soluble fertilizer at your local garden, home improvement or discount department stores.
Prune dead or dying foliage that hinders the plant. Otherwise, pruning is not necessary on these shrubs. Use sharp pruning shears. Dull pruning shears pinch away the bad growth from the plant, damaging the healthy growth.