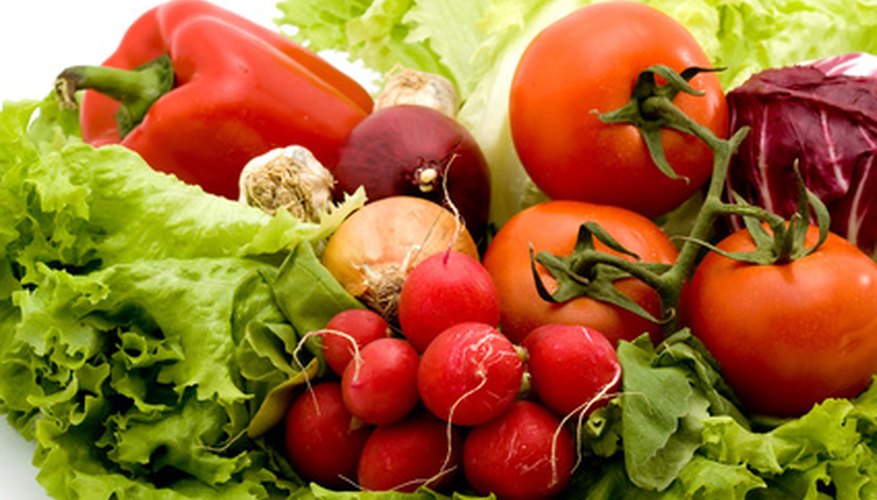 Nestled in the picturesque hill country of southern Oregon, Roseburg is located 175 miles south of Portland along Interstate Highway 5, and just 80 miles from the coast. Roseburg enjoys one the mildest climates in the United States, with a typical growing season of 280 days. With summer temperatures that average 70 degrees and plenty of sunshine, Roseburg is a great place to start a vegetable garden. Although the USDA places Roseburg in plant hardiness zone 8, the Arbor Day Foundation classifies it as zone 9.
Choose a site in your garden that is in sunlight at least six to eight hours a day. Outline the plot by placing a stake at each corner, and tie string around the edges. Remove the turf by cutting it into small squares with the spade so that they can be easily lifted out with the garden fork. Make the cuts in the turf deep enough to get underneath the roots.
Loosen the top 4 to 5 inches of soil with the hoe, and spread 4 to 6 inches of compost or manure over the entire plot. The soil in Oregon is slightly more acidic than the 6.0 to 7.5 pH desirable for growing vegetables. Spread 10 pounds of lime per 100 square feet of garden area to raise the pH level.
Dig in the compost and lime lightly, and leave the plot to rest for a few days. This will give the organic material time to start breaking down and mixing with the soil.
Sketch an outline of the garden to use in planning the layout. Most vegetable can be grown in rows spaced about 18 inches apart--however, vegetables with more lateral spread, including squash, melons, cucumber and corn, need 3 to 4 feet between rows. The warm climate and long growing season in Roseburg allow gardeners to grow almost any vegetable crop. Sweet potatoes and okra, though, are not suitable for growing in this area.
Lay out the rows from your drawing by placing wooden stakes at either end and connect with string. Hoe the soil into a mound roughly 6 inches high beneath the string lines. Carefully follow the seed package instructions and plant your seeds at the correct depth and spacing. In Roseburg, plant peas and asparagus in February and your other root vegetables in March. The Oregon State University Extension Service offers a detailed guide with planting dates for most vegetables.
Give your garden at least 1 inch of water per week. In Roseburg the rainfall in February and March averages 3 to 4 inches per month, while the summer months are quite dry. Watering can be adjusted to match the conditions. Weeding should be done on a daily basis when starting out in the spring. Young vegetables will struggle to compete with weeds for soil nutrients. Examine young vegetable plants for damage caused by insects or other pests. If signs of pest or disease problems are found, contact your local county extension office for advice.
Things You Will Need
Spade

Garden fork

Garden rake

Compost or manure

Lime

Hoe

Paper and pencil

Vegetable seeds

Wooden stakes

String

Garden hose
Tips
One way to control harmful insects naturally is by attracting the bugs and birds that eat them. Gardeners love ladybugs as they have voracious appetites for aphids and other insects. Planting dill, yarrow or cilantro in your garden will help to attract ladybugs.

Measure rainfall and hand watering by placing a few empty coffee cans in the garden. Empty after each watering and keep a record of how much water your garden has received. This can be valuable information for future years.