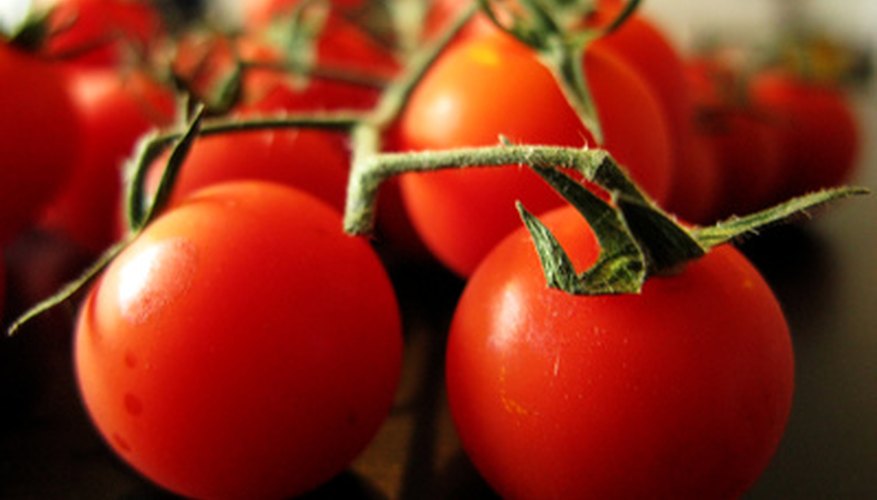 Tomatoes can be challenging for the Louisiana gardener, since the area's summer heat waves cause irregular growth in plants. Gardeners can mitigate this effect by choosing from Louisiana State University's recommended tomato planting varieties. These types include Better Boy, Big Beef, Champion, Amelia, Carolina Gold, Juliet, Sweet Million, Roma and Elfin. The most heat-resistant varieties Lousiana State University recommends are Florida 91, Phoenix, Sun Leaper, Sun Chaser, Sunmaster, Solar Fire and Talladega.
Wait for the right time of year to plant. Louisiana residents can plant tomato transplants from March 1 to May 1 or from July 1 to August 15.
Prepare the soil in your garden bed by turning it over with a trowel to loosen it. Remove and discard any weeds, sticks or stones that have made their way into the garden bed.
Dig 6-inch deep holes for your tomato transplants using a small shovel. Remove tomato transplants from the plastic containers and massage the root ball with your fingers to break it apart. Place the plant in the hole and cover over with dirt.
Deep planting helps protect tomatoes against summer heat. Spacing between plants varies by cultivar, but the University of Illinois notes that most varieties require 15 to 25 inches between plants.
Water the newly planted tomatoes until the ground is saturated.
Water tomato plants every other day in the morning, to start. Morning watering helps keep the tomato plants cool during Louisiana's hot days. If the plants seem to need more water, as evidenced by dry soil and wilting leaves, increase watering to daily.
Scatter pine straw or mulch in the garden at the base of the tomato plants to help the soil retain moisture. Place tomato cages around tomato plants to provide support to growing plants, pushing the cage at least 1 inch into the soil.
Things You Will Need
Trowel

Tomato transplants

Shovel

Water

Tomato cages

Mulch