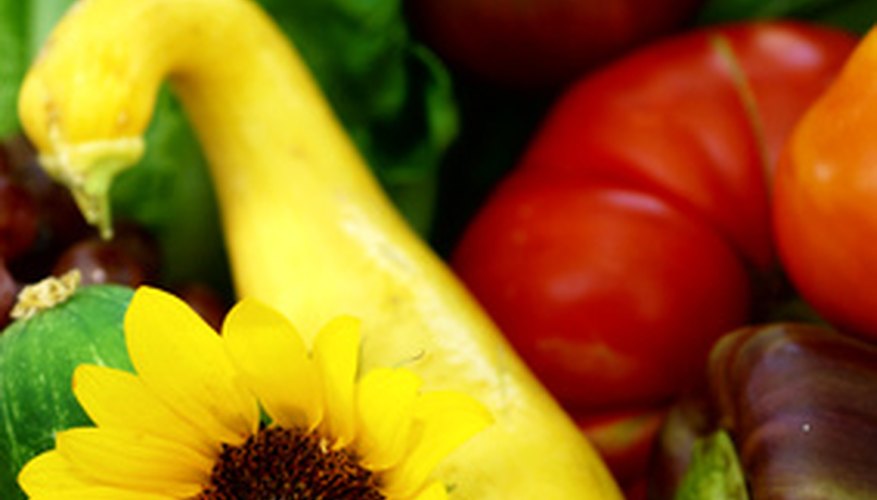 Located in eastern Washington, the city of Spokane lies just a few miles west of the Idaho state line and 280 miles east of Seattle. As of 2009, the population of Spokane exceeded 205,000 making it the second largest city in Washington after Seattle. Winters are periodically cold and wet with an average of 46 inches of snowfall annually. Dry, mild weather is the norm through the summer months. Spokane is in plant hardiness zone 5b-6a, with the growing season beginning in mid-April and lasting about six months.
Choose a location in the garden that gets at least six hours of sunlight a day. Mark out a small plot by placing stakes at the corners. Remove any turf by cutting one foot squares with the spade and lifting them out with the pitchfork. Be sure to cut the turf deep enough to get below the roots. The turf can be chopped up and composted. Loosen the top 3 to 4 inches of soil using the pitchfork. Cover with 4 to 6 inches of compost or manure and turn the soil with the spade to dig it in. Level the plot out with the garden rake and leave it for a few days to allow the compost or manure to start breaking down.
Place wooden stakes at either end of the plot and run the string between them to mark out rows. The rows should be about 18 inches apart. Using the hoe pull the soil into a small mound along the length of the string and make a small V-shaped furrow in the top. Follow packet directions for planting seeds paying close attention to spacing and depth instructions. In Spokane, root vegetables such as beets, turnips, carrots and potatoes can be planted at the start of the growing season. Other early season plantings can include lettuce, radishes and peas. Wait until mid-May to plant corn, beans, melons and cucumbers.
Water the garden with about one inch of water per week for maximum growth. The rainfall in Spokane during the growing season averages just over an inch per month, so regular watering is a must. Weeds compete with the vegetables for soil nutrients and must be removed regularly. Weed the garden using a hoe to loosen the soil and pull them out by the roots. Applying 3 to 4 inches of mulch between the rows will help reduce weeds and add nutrients to the soil. Check the young plants regularly for signs of insects and other pests. Beneficial insects like ladybugs help to keep destructive bugs under control. Herbs such as dill, cilantro or yarrow will attract ladybugs to the garden.