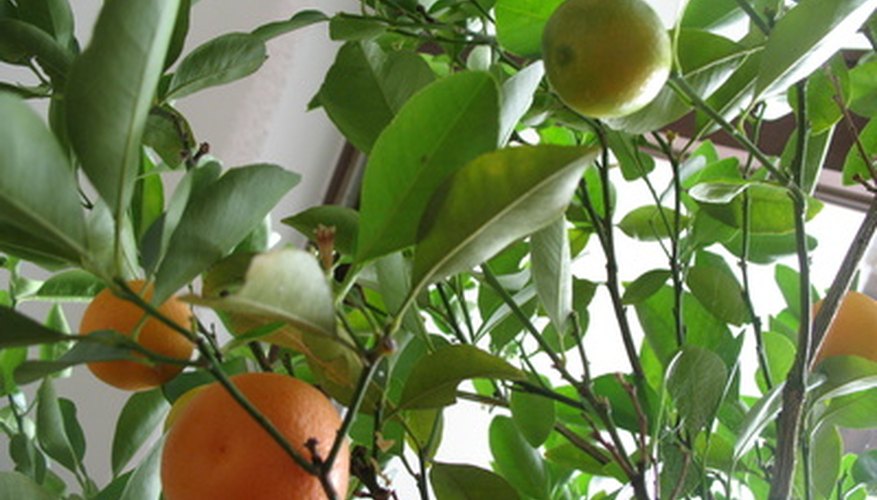 Winter frosts damage your orange tree, causing severe damage to leaves and branches. Gardeners that grow potted citrus trees wheel the containers indoors for the winter, placing the citrus tree in the house or in a garage. For orange trees planted in the ground, gardeners can erect several protective methods in the late fall to protect the orange trees before frosts set in.
Erect a soil bank around the orange tree's trunk in November, suggests Texas A & M University. Pile soil in a large mound around your orange tree until the entire trunk is submerged. Leave the soil bank in place until March, or whenever the danger of frost has passed for your region. This method offers no protection to the top branches but will protect the trunk and scaffold limbs.
String small Christmas lights through the tree's branches in the late fall. Plug the lights into an outdoor outlet. Turn the lights on when frost is forecast for your region. The bulbs will help keep the tree warm.
Wrap small orange trees in burlap sacks. Since burlap is breathable, this will protect the tree without smothering it. Cover all branches and the trunk of the tree, and tie the burlap to the base of the tree with twine. Wrap trees that have been covered in Christmas lights; this double protection strategy works well, according to the University of Arizona.
Place a portable space heater in your garden on frosty nights. Turn the heater on a low setting and aim it at the orange tree. Turn the heater off in the daytime, and avoid using a space heater with snow or rain.
Set up a garden sprinkler near orange trees that do not have Christmas lights. Turn the sprinkler on to spray the orange tree's limbs. Leave the sprinkler on for the duration of the frost. The water coats the branches and turns to ice, which helps insulate the tree from the frost. Do not turn the sprinkler off until the air temperature warms to 37 degrees F. Some limbs may break under the weight of the ice with this winter care method.