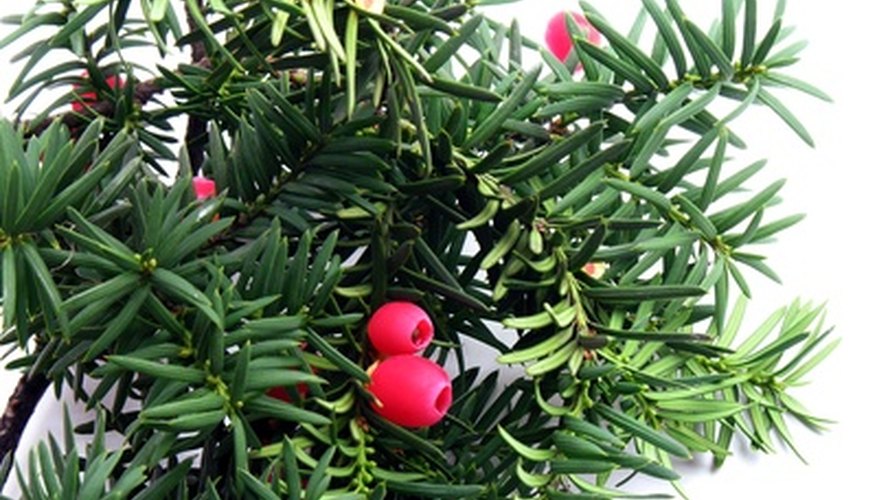 A member of the narrlowleaf evergreen family, yew is a hardy shrub and can be pruned more severely than its cousins the juniper and Arborvitae. Gardeners prune yew primarily to maintain its shape, but also to keep the shrub healthy. Prune yews each year in spring when frost danger has passed for your area, and trim them back again if necessary to maintain a nice shape and size. According to the University of Missouri, yews can be pruned up to 50 percent each year, though most gardeners won't find such intensive pruning necessary.
Check for dead, damaged or diseased branches on your yew shrub. These will have discolored needles, wounding or physical damage that is obvious. Remove the unhealthy wood to keep the rest of your yew healthy.
Prepare a disinfectant solution by mixing one part bleach with 10 parts water in a bucket. Place your pruning tools in this solution.
Cut off the unhealthy wood at the yew shrub's base. In between cuts, dip your pruners in the bleach solution to disinfect; this helps keep the healthy parts of the yew healthy. After you've removed all unhealthy wood, throw away the bleach solution and dispose of the wood in a garbage bin.
Trim long branches back to a node, or swollen tissue. Use anvil pruners. Begin at the top of the yew and work down, keeping the rough natural shape of the yew when you prune. Yews can regenerate even when cut back to a bare branch; unlike when you prune other evergreen shrubs, you do not have to leave some remaining green leaves on branches when you cut them.
Remove older woody branches that produce few needles by cutting them back to the trunk.
Trim back the yew again over the summer if its branches have grown too long, clipping back the long branches in the same manner you did earlier.