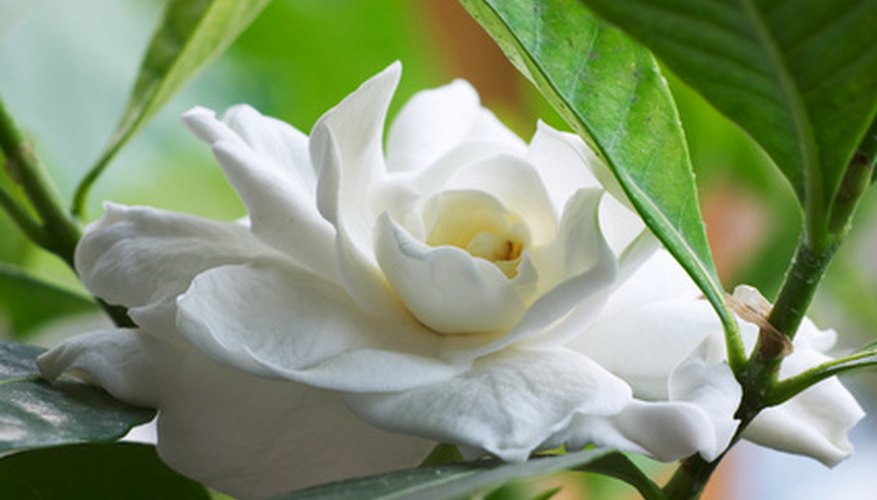 Producing fragrant, soft white blooms, the gardenia plant is an excellent addition to anyone's home or garden. The waxy-leafed, shrub-like plant is notorious for use as perfume and home fragrance scents. Because of their ability to stand up to weather and disease well, gardenia plants are often sought after by gardeners across the United States. By following these simple steps you can successfully care for and grow gardenia plants, and fill your home and garden with the refreshing scent and presence of gardenia.
Plant the gardenia plant in spring or fall. Allow the plant to grown in full sunlight or partial shade. Gardenias bloom best in temperatures around 73 or 75 degrees F during the day. The gardenias can grow between 2 and 6 feet in height, thus planting them in the back of the garden would be best.
Water the gardenia plant every other day during the summer, depending on the frequency of rain in your area. Water the gardenias even when they are not in bloom. The gardenia's base should remain moist to the touch, but not soaked or dry. By adding mulch, there will not be a need to water the gardenia as often, as the mulch will retain water.
Feed the gardenia plant with acidic plant food. It is best to feed the plants in March and through late June, using an acidic plant food. Do not feed the gardenia during the fall months—because the approaching cold weather could damage the new growth that results after feeding.