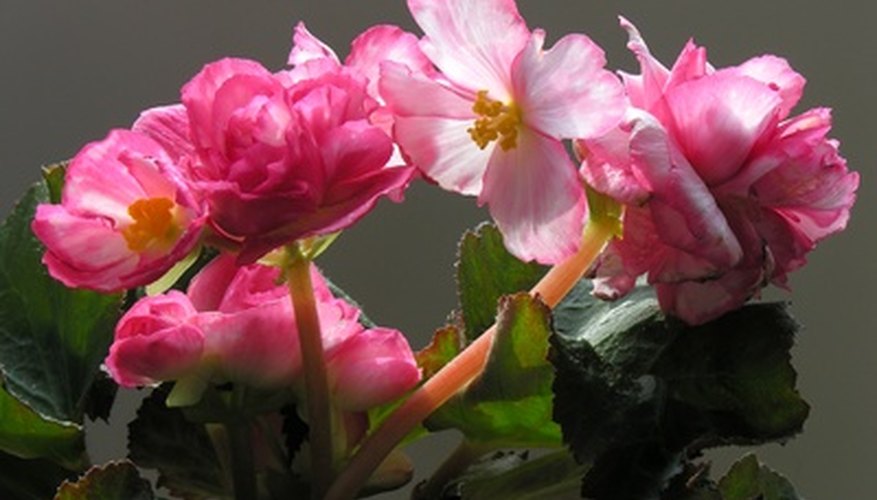 Named for the French-Canadian governor, M. Begon, begonias are a popular favorite among gardeners nationwide. There are varieties for full sun and some that grow best in the shade. Purchase most varieties of begonias in garden centers in spring or early summer.
Encore Begonia
This variety of begonia is known for its green and bronze foliage. These wax-leaf, ever-blooming begonias are slow growers, but they will bloom all summer long, right up until the first frost, in various shades and colors. Red, pink and white are some of the most common bloom colors. Encore begonias are popular bedding and container plants. Place this annual in well-drained, moist soil and it can reach 10 to 12 inches in height. Leave 6 inches or so of space between each plant to allow for foliage expansion. Plants that are too close together can crowd each other out causing less blooms and creating a breeding ground for disease. According to the University of Vermont, a common problem with begonias is leaf spot, and the encore variety is not immune. This disease rarely means the death of the plant, but it can make it look unsightly. Prune any infected foliage and flowers, and remove any infected fallen debris.
Dragon Wing Begonia
Dragon wing begonias are an increasingly popular variety. They are most popular for their attractive flowers, which include shades of pink and red. They begin to bloom in early spring and continue to bloom throughout summer. These begonias are popular container plants, and they are often placed in flower beds and in hanging baskets. This low maintenance variety is drought tolerant, heat tolerant and can grow well in both sunny and shady locations. Plant dragon wing begonias in partially sunny or partially shady locations. Water them lightly when the soil surrounding them feels dry, and fertilize them every 14 days. Allow them plenty of room to grow where they are planted.
Angel Wing Begonia
This variety of begonia is characterized by folded, wing-type leaves and thick stems. The foliage can vary in color and pattern with some being spotted or splotched with metallic color. Blooms appear in heavy clusters of pink, red, salmon, orange and white. Angel wing begonias are popular year-round houseplants because of their ease of use. They grow best in a warm and humid environment. Water them when the soil around them is dry, and fertilize them once a month throughout the growing season. A common problem is root rot. Avoid over watering, as this can lead to water logging.