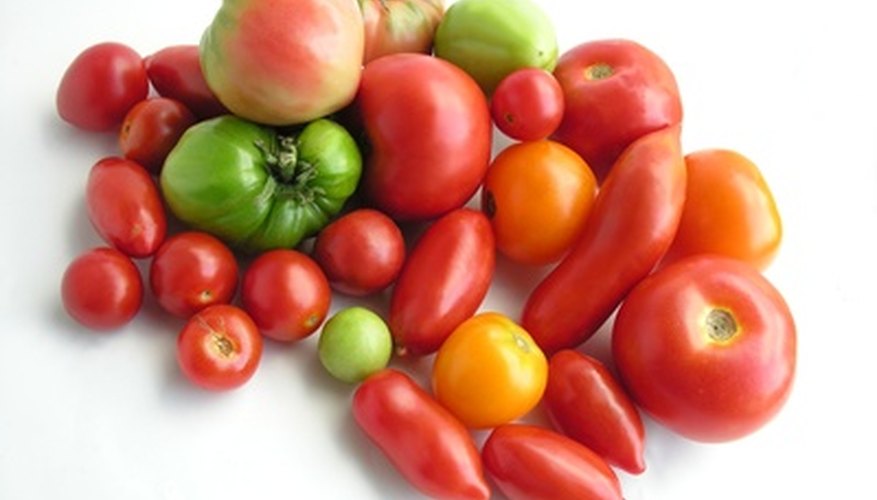 Southeastern North Carolina is located within zones 7 and 8 of the U.S. Department of Agriculture hardiness zone map, a representational map that categorizes the United States by climate and other factors to determine the best plants to grow in any particular area. The warm, humid climate of southeastern North Carolina is perfect for growing most varieties of tomatoes.
Mortgage Lifter
Mortgage lifter tomatoes were developed in the 1930s. The story behind this tomato's name is that the developer of this tomato was able to pay off his mortgage by selling the seedlings. Mortgage lifter is a large variety beefsteak tomato that produces meaty fruit with few seeds. It has a spicy, slightly roasted and salty flavor.
Burgermaster
Burgermaster tomatoes are heavy set, determinate plants that produce high yields of large, smooth fruit. These tomatoes usually weigh around 9 oz. to 11 oz. and are very flavorful. Burgermaster tomatoes taste great in salads and on sandwiches and when they are juiced. They are also the perfect tomato for salsa making. Burgermasters are a hardy and disease-resistant variety.
Goliath
Goliath tomatoes are one of the best types of tomatoes to grow in the warm, humid climate of southeastern North Carolina. Goliath is a hardy disease- and crack-resistant variety that gets its name from the huge tomatoes and sprawling foliage that it produces. This variety of tomato is an early producer that displays bright red fruit full of sweet and tangy flavor. Goliaths produce fruit right up until the first frost of the season. Their fruit usually weighs in at 1 to 2 lbs. but can weigh up to 3 lbs. This is a hardy and disease-resistant variety.
Carbon
This tomato was voted the No. 2 best-tasting tomato in a Los Angeles tomato-tasting event called Tomatomania. Carbon tomatoes are a variety of black tomato that grows well in most areas, even in times of excessive rainfall. In spite of their name, these tomatoes are not actually black. They are, however, among the darkest of their variety. They have dark, purplish brown flesh and deep red inner fruit. These tomatoes are a round and smooth variety with a rich, sweet flavor that is perfect for soup. The fruit of this tomato grows medium to large and can weigh anywhere from 8 oz. to 12 oz. Carbon tomatoes are hardy and resistant to the blemishing and cracking common in other varieties of black tomatoes.