Espalier (pronounced es-PAL-yer) is an Old World tradition that is enjoying a renaissance due to shrinking lot sizes and a return to urban living where outdoor gardening space is minimal. It refers to the practice of training shrubs to grow against walls by directing their growth along a flat plane and pruning away any growth that does not conform to the pattern. Preferred choices for this kind of artistic project are shrubs that produce fruit, flowers or attractive foliage.
Gardenia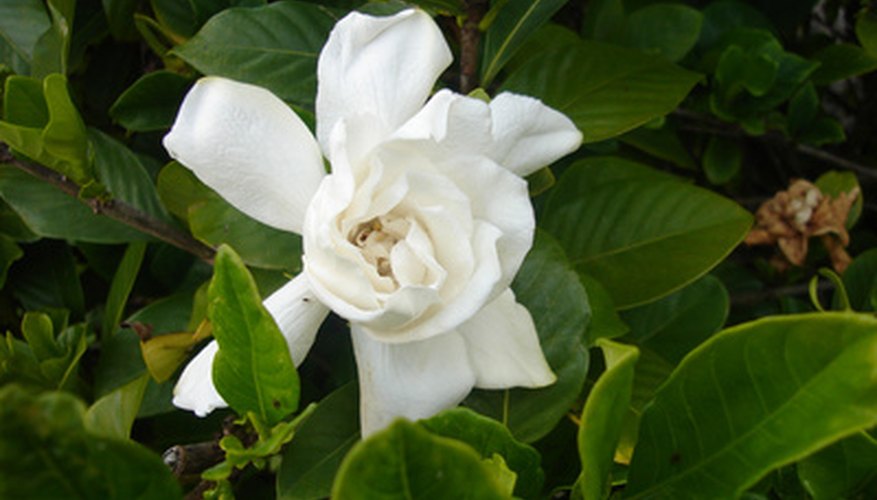 Gardenia, also known as Cape jasmine, is a prudent choice for an espalier because it has numerous flexible lateral branches. Additionally, evergreen Gardenia has deep green, lustrous leaves and creamy white flowers that are admired for their fragrance. If possible, locate your espaliered Gardenia near a window, door or walkway so that you can enjoy its aroma. Gardenia is hardy in zones 7b to 10 and grows best in sun to partial shade. It prefers well-drained acidic soil with high organic content. Gardenia can be expected to achieve a height of 4 to 6 feet and a width of 4 to 5 feet.
Pyracantha
Pyrachantha coccinea is hardy in zones 5 through 9, and has everything you could want in a shrub to grow against a wall. The common name, firethorn, gives you an idea of one of Pyracantha's visual attributes. Long, sharp thorns line its lanky stems among the small, glossy leaves. Springtime brings clusters of diminutive white flowers growing so close together that the entire surface appears covered. In the fall, Pyracantha's signature berries appear and ripen from green to shades of fiery red, orange and yellow. This feature lasts through the winter, hungry birds permitting. Left to its own devices, Pyracantha will grow into an impenetrable, tangled mound up to 10 feet tall and 12 feet wide. It is not fussy about soil and requires little to no fertilization.
Natal Plum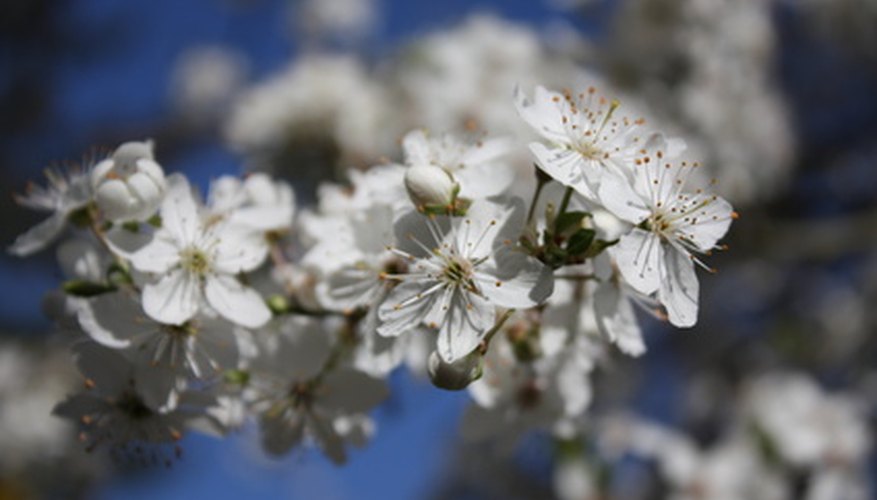 Natal plum (Carissa macrocarpa) is similar in many ways to Pyracantha. It has sharp spines along its long limbs and an unruly growth pattern of dense, closely borne branches. Grown as a tree, it can reach a height of 20 feet, but most cultivated forms are smaller. Natal plum produces white, star-like flowers with a scent similar to orange blossoms. It also produces a plum-shaped red berry that is edible. Natal plum responds well to close pruning and can be easily trained to your chosen form. It prefers sandy, well-drained soil and full sun but will tolerate partial shade. Hardy in zones 9 to 11, this plant is salt tolerant and not subject to wind damage, which makes it an ideal shrub to grow against a wall near the beach.