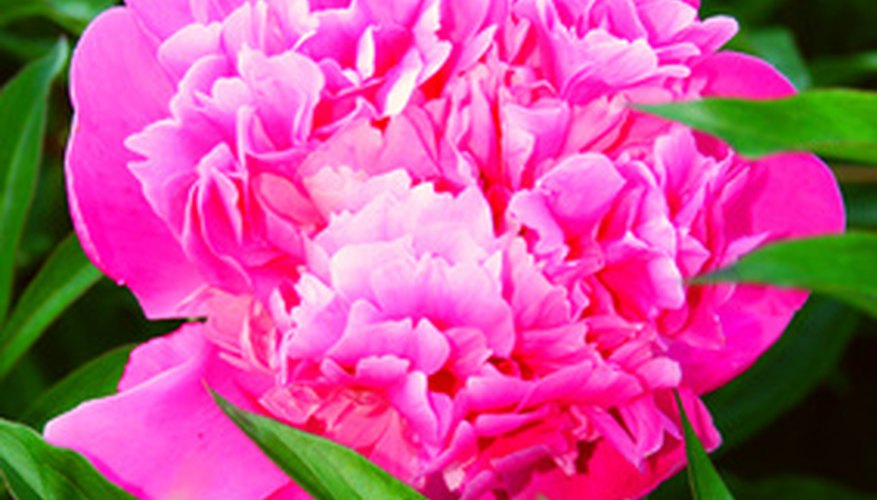 Peonies are long-lived perennials that produce big, colorful flowers in the spring. They favor a cool climate with direct sunlight and well-drained soil. When cared for properly, peonies thrive and produce beautiful blossoms year after year. This plant is, however, prone to a few problems.
Phytophthora Blight
Phytophthora blight, caused by phytophthora parasitica, is a disease in peonies that can be particularly destructive. Black spotting of the buds is an early symptom of this disease, along with brown and leathery, dried-out stems. If phytophthora becomes an infestation, peonies can rot at ground level or at the crown, resulting in plant death. Control this problem by removing diseased foliage and cutting the peony plant down to the ground after the first frost.
Botrytis Blight
Botrytis blight is very similar to phytophthora blight, but much more common. It occurs during cool, wet, mid-summer weather and is caused by a fungus. Botrytis overwinters on dead plant material like roots, stems and dead leaves, and causes soft, black buds and soft or wilted stem tissue. Control measures are much the same as with phytophthora blight and include the removal of diseased foliage and the cutting back of the plant after the first frost.
Leaf Spot
Leaf spot causes black, brown or red spots to appear on the foliage of your peony plant. The spots can eventually turn into purplish-brown blotches on the surfaces of the leaves. The leaves turn yellow, and then defoliation, or leaf drop, occurs. Control leaf spot by removing the damaged foliage as it occurs. Cut the peony back after frost, making sure to destroy all foliage. Clean the ground of any damaged foliage debris. Leaf spot can make your peony to look unappealing, but it seldom kills the plant.
Spider Mites
Spider mites are small, eight-legged bugs that feed on the undersides of plant leaves. They range in color from black to red and are hard to see with the unaided eye. Spider mites attack the leaves of the plant and feed on the plant fluids. Often, the first sign of this critter is webbing. This causes speckling and fading, and can give the peony a discolored appearance. The leaves can sometimes become scorched and the plant can begin to defoliate. If left untreated, the peony can eventually die. Treat and prevent spider mite infestations by applying an insecticide to kill the mites.