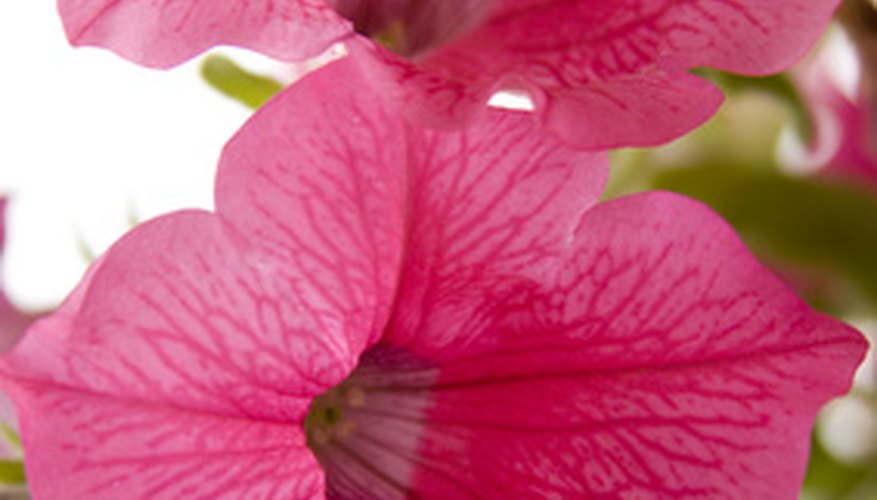 Petunias are popular, versatile plants that with very little care will produce bright blooms all summer long. Although the types of petunias number in the hundreds, all petunias fall under one of four major categories based on the size of their blooms and their growth habits. Some varieties do well in borders or flowerbeds, while others are shown to best advantage planted in hanging containers or window boxes, and still others should be planted where they have ample space to sprawl.
Multiflora Petunias
Multiflora petunias are compact plants that will bloom profusely throughout the growing season. Although double petunias are available, most types of multiflora petunias are single forms. Because of the bushy shape of the plants and the large number of blooms, single types of multiflora petunias are beautiful in mass plantings, with double types performing well in containers. Multiflora petunias include Primetime, Carpet and Celebrity.
Grandiflora Petunias
Grandiflora petunias grow in bushy clumps as tall as 12 to 14 inches, producing double or single blooms as large as 4 to 5 inches in diameter. Most grandiflora petunias are upright and do well in the ground or in patio containers, but some types tend to cascade, making them perfect for window boxes or hanging baskets. Grandiflora petunias include Supermagic, Supercascade, Dreams, Falcon and Storm.
Milliflora Petunias
Milliflora petunias are the miniatures of the petunia world, the compact plants producing masses of small blooms not much more than an inch in diameter. Milliflora petunias such as Fantasy types are versatile plants that do well along the edges of flowerbeds or in containers where the small blooms can be appreciated up close.
Ground Cover Petunias
Ground cover petunias are drought-tolerant, low-growing plants that won't get much taller than 6 inches, but that when properly cared for will spread, rapidly covering a 3- to 4-square-foot area. Ground cover petunias such as Wave and Ramblin work well planted on a difficult hillside, and are beautiful planted in window boxes and hanging containers.