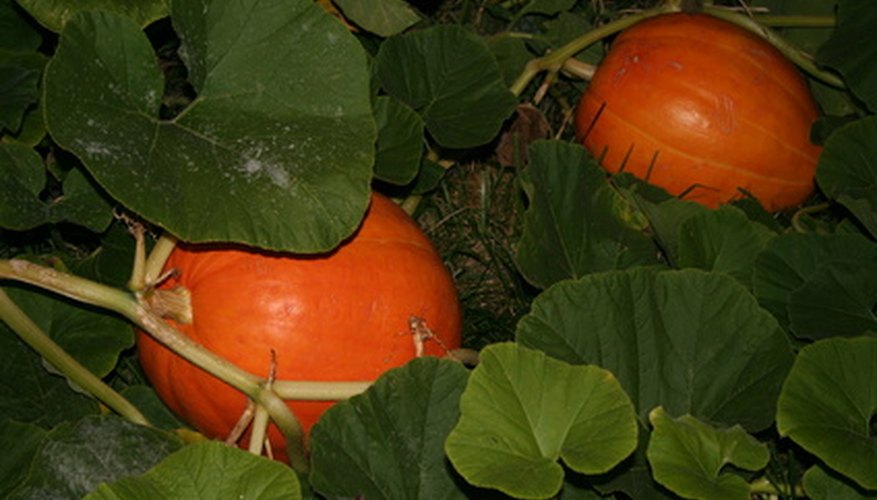 Pumpkin Patch image by Jennifer Nickert from Fotolia.com
The Mississippi gardener can get a few plants started in July, but the high temperatures make for challenging conditions for most seedlings. According to Weather.com, typical July temperatures range from 91 to 71 degrees F. Most of the fall planting happens in August, while spring plants continue to deliver bounty in June and July. Get started on fall planting in July with a few hardy varieties that need full sun to grow.
Pumpkins
Pumpkins planted in Mississippi in July will be ready for display by Halloween, according to Mississippi State University. The University of Illinois suggests planting small Sugar or Winter Luxury pumpkins for eating. Jack O'Lantern, Connecticut Field, Ghost Rider and Howden Field make good decorating pumpkins. All pumpkins take 100 to 110 days to mature. Plant pumpkin seeds 1 inch deep and leave vining varieties at least 50 feet to trellis.
Cowpeas
Better known as the blackeyed pea or southern pea, the cowpea can be planted in July gardens. Cowpeas perform well in hot temperatures and are relatively drought-tolerant. Gardeners can choose bush or vining varieties. Plant cowpea seeds no more than 1 1/2 inches deep. Cowpeas can be picked while fresh or left on the vine until they dry, then harvested.
Bush Beans
Bush beans come in many varieties, including wax bean, string bean and French bean. Gardeners can find bush bean varieties that are yellow, green or purple in color and with either round or flat pods. Cornell University notes that beans require even moisture and suggests watering 1 inch per week. Plant bean seeds 1 inch deep in rows, leaving 2 inches in between seeds.
Butter Beans
Butter beans or lima beans need to be planted in a warm soil, so they perform well when planted in July gardens in Mississippi. Gardeners can choose pole or bush varieties; Fort Valley State University notes that pole varieties of butter bean are more productive. Fort Valley State University recommends Jackson Wonder, Dixie Butterpea, Bridgeton, Kingston, Carolina Sieva and King of the Garden varieties. Plant butter beans no more than 1 inch deep and space seeds 3 to 4 inches apart. Butter beans need nitrogen to grow, and Fort Valley State University suggests applying 10 lbs. of 5-10-15 fertilizer per 1000 square feet of garden.