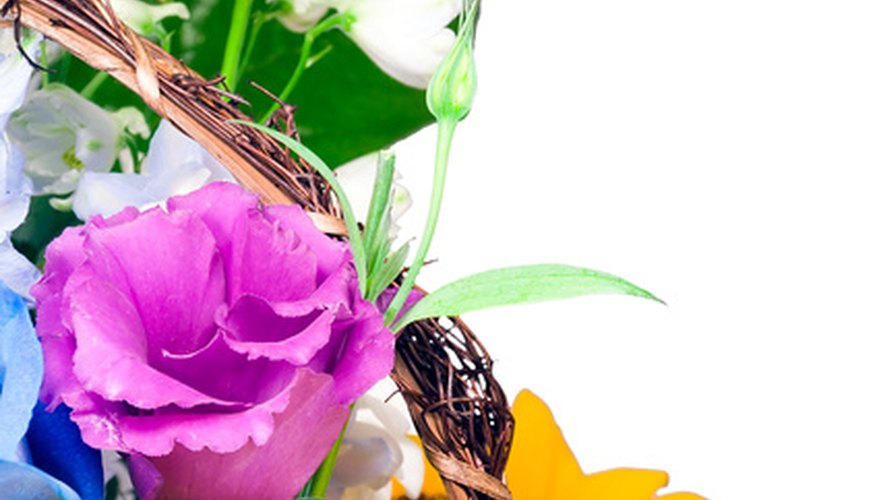 Fresh and artificial flowers play a vital role in special occasions, home decor and other events, such as funeral condolences. Floral arrangements vary in style from simple and plain to intricate and wildly shaped. Whether you're an aspiring florist or you want to incorporate some of your fresh flora into eye-catching displays, knowing about the different types of floral arrangements helps guide you through creating your own pieces. From large dome bouquets to delicate horizontal basket arrangements, you can dazzle your friends and loved ones with your ability to put together a floral display.
Dome Arrangements
Dome flower arrangements offer ease of viewing from all angles with a simple dome shape. Dome arrangements vary in size from small potted displays to large and grandiose table arrangements. Achieved by placing various flowers in a circular arrangement, dome flower arrangements belong in baskets, buckets and wide-based vases of medium height.
Equilateral Arrangements
Also known as a triangular arrangement, an equilateral flower arrangement makes the shape of a perfect triangle. The topmost point of an equilateral arrangement is the tallest part, and strategic placement of the flowers create a 360-degree view by widening the sides equally with an assortment of flowers. Popular in boxes and short, stout vases, equilateral flower arrangements make for a perfectly symmetrical design.
Horizontal Arrangements
Horizontal flower arrangements make simple flower centerpieces that are laid in a horizontal direction. Flowers alternate in a horizontal arrangement, lined side by side, bud to stem. This creates an even and easy-to-view arrangement of floral blossoms at both ends. Baskets and other low-profile receptacles make ideal horizontal arrangement bases.