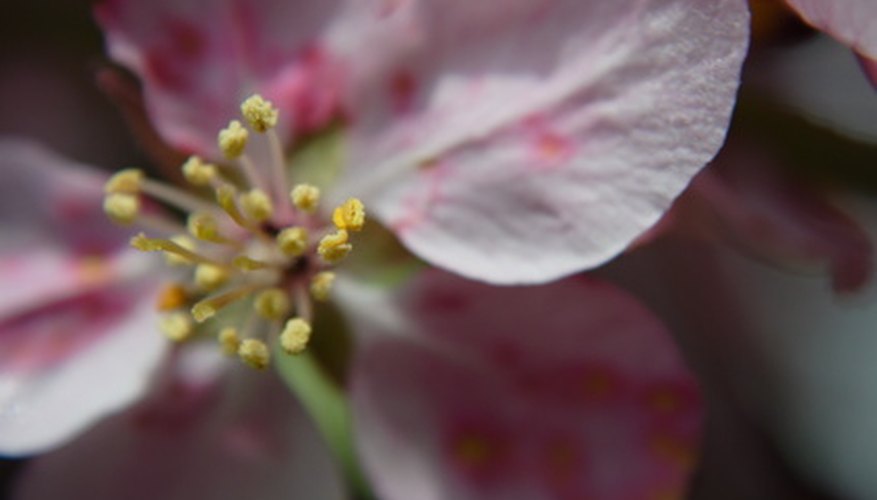 Flowers shoot up through the cool soil that was once frozen and trees begin to blossom; it is finally spring. Spring brings to the garden a rainbow of colors, textures, and shapes. Growing in varying shades, from deep pinks like fuchsia to pale blossoms that resemble cotton candy, pink flowers provide a cheerful burst of color to the garden.
Sargent Cherry
Sargent cherry is a deciduous tree with a rapid growth rate and deep pink blooms. Growing 20 to 40 feet tall and wide, sargent cherry trees have an upright form that is rounded. The dark green leaves of the sargent cherry are shiny and grow 2 to 5 inches long to cast a red, yellow and orange tinge each fall. Sargent cherry trees have 1-inch flowers that bloom every spring to light up the landscape with color. Easy to transplant, sargent cherry trees have red to brown bark that contrasts with the pink flowers. Sargent cherry trees require full sun and well-drained soil to thrive. Plant these trees in USDA Hardiness Zones 4 to 7.
Parkman Crabapple
A deciduous tree with a moderate growth rate, Parkman crabapple (Malus halliana var. parkmanii) has medium texture and an upright, vase-shaped form. The dense branches hold the double, pale pink flowers that emerge in spring for a showy landscape display. Growing 15 to 18 feet wide, Parkman crabapple trees have a moderate disease resistance, making for a tough specimen tree. Parkman crabapple trees are striking when planted in a front yard as the focal point to the space. Parkman crabapple trees require full sun and well-drained soil to thrive. Plant Parkman crabapple trees in zones 4 to 8.
Bleeding Heart
King of Hearts, a variety of bleeding heart (Dicentra 'King of Hearts'), is a perennial flower with heart-shaped pink blooms. Bleeding heart's upright clumps attract hummingbirds to the garden. Growing 1 to 3 feet tall and wide, bleeding heart is an ideal flower to grow along a flower border or tucked within containers. Foliage on King of Hearts is blue to green and resembles parsley. King of Hearts bleeding heart begins blooming in spring to last through the summer. Bleeding heart requires full sun to partial shade and nutrient-rich, moist soil that is slightly acidic. To grow in other areas of the garden, divide bleeding heart in spring. Plant bleeding heart in zones 5 to 9.