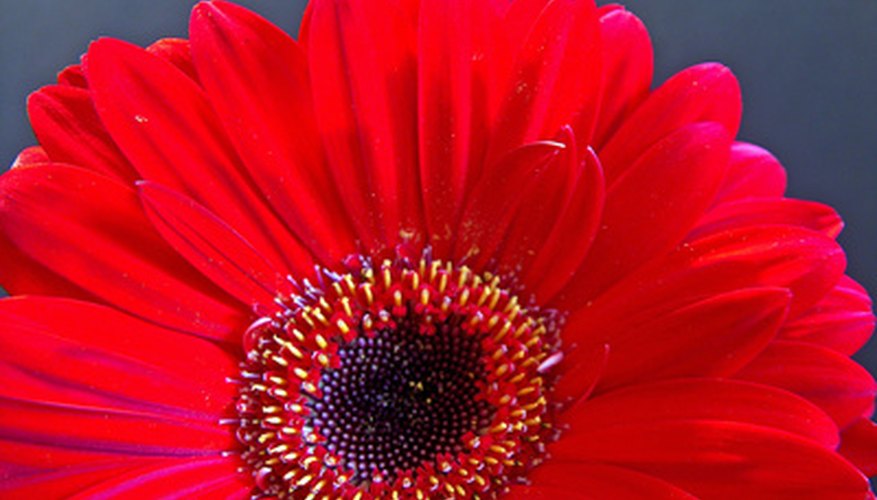 Cheerful and very colorful, gerbera daisies, or Gerbera jamesonii, are a popular choice for flower gardens, containers and flower arrangements. Their wide array of colors only increases their versatility, and they can be found everywhere from a country windowsill to an elegant bridal bouquet. They are also easy to grow, requiring little maintenance or effort as long as they are watered regularly.
Yellow
Cheery and bright, yellow gerbera daisies come in a range of shades, with difference both in the petals and the center of the flower. Gerfolia yellow, Kayak, and Lemon Ice Gerbera daisies, for example, have stems and centers that match. Heat Wave, Terra Gina and Adventura have black or brown centers and yellow petals in varying shades. Other popular varieties of yellow gerbera daisies include Black Center, Alcapulco, Kayla and Kaliki.
Red
From burgundy to fiery red to a pale blush, gerbera daisies can be found in nearly every shade of red imaginable. Germini Red may be the most popular, and it can be found with both light yellow and dark black centers. The Terra Onion variety is a deep purple-red color, similar to that of a red onion. Black Center red gerbera daisies are similar to Germini Red but are a lighter shade of red, with an almost pinkish hue. There are also two popular varities of bi-color red gerberas, including Black Center and Fiction. Burgundy gerbera daisies include Dark Lady and Carambole.
Orange
One of the brightest and most popular colors of gerbera daisy, the orange variety comes in shades ranging from peach to deep pumpkin. The centers can be equally colorful, including a mixture of bright orange and fiery red. Orange gerbera daisies include Princeton, Gerfolia Peach, Jambo, Navelino, Candela and Real. There is also a bi-color variety called Torpedo, which is two shades of orange with a black center, and an unusual gerbera daisy with shaggy-looking petals called Gerspider Orange.
Pink
Pink varieties of gerbera daisy abound. Some of the most popular pink gerberas are Leila, Purple Rain, Britta, Lucina, Francela, Grizzly and Grandiva. There is also a special color called Blue Eye that is classified as purple but has an unusual pink-purple color that fits in well with most other pink gerbera daisies.
White, Brown and Cream
Perfect for setting off the more brilliant colors or for adding their own shock of color among deep greens, or seas of bright colors, white, brown and cream gerbera daisies can have a real impact in flower gardens, pots and arrangements. The most popular white variety is Ave Maria, and the most popular brown is the aptly named Browny, while popular cream varieties include Cafe and Kayla. White and cream colors can also be artificially dyed.