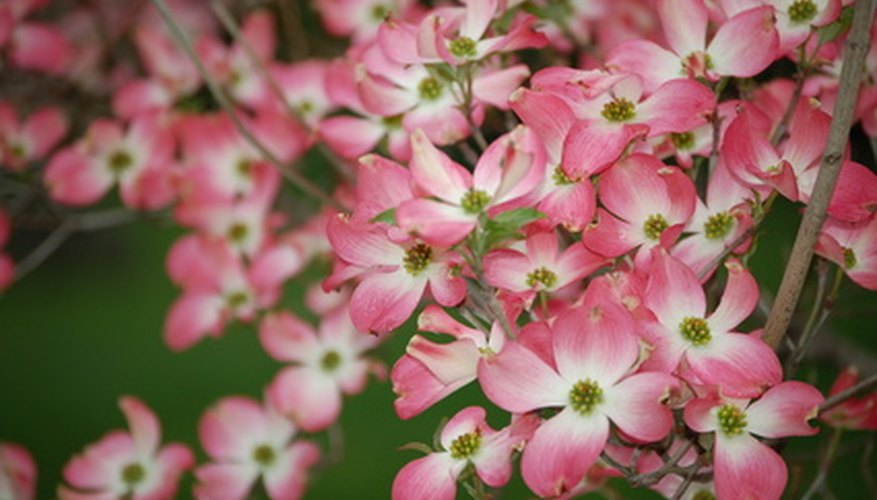 Front yard spaces filled with flowering bushes and trees create brilliant landscape designs. Use the front-yard space to plant trees of varying heights, colors and shapes. Evergreen trees are ideal in the front yard because they retain their vibrant colors in the winter months. Fall-loving trees that light up the landscape with their fiery foliage are also front-yard favorites. Even small front yards have room for hardy, colorful dwarf trees.
Flowering Dogwood
The flowering dogwood is a striking deciduous tree that has colorful blooms and bright foliage. Flowering dogwoods have a semi-rounded form with low horizontal branches. They also have fall foliage in reddish-purple colors that light up the landscape. The leaves on the are oval and grow up to 6 inches long. The 4-inch flowers are white or pale pink. Flowering dogwood trees have a slow-to-moderate growth rate and prefer partial shade, moist, well-drained soils. Plant these along a front yard walkway for a brilliant and inviting addition to the landscape. It is hardy in zones 5 to 9.
Eucalyptus
Eucalyptus trees are rapidly growing trees that provide an aromatic scent to the front yard. The foliage on the eucalyptus tree is bluish-green in color and creates fragrant potpourri and floral arrangements whe dried. This evergreen tree retains its vibrant color all year long and has horizontal branches that contain rounded, small leaves. The eucalyptus tree grows up to 60 feet tall and 15 feet wide, making for a commanding presence to the space. Eucalyptus trees require full sun and well-drained soils to thrive. Its USDA hardiness zones are 8b to 9.
Japanese Maple
The Japanese maple tree is a stunning deciduous tree to grow for its fall color. Japanese maples have low, spreading branches that look layered as they cascade down. The leaves of the Japanese maple are green in the summer and change to purple, yellow, red and bronze in the fall. Each leaf ranges from 2 to 5 inches long and has small red and purple flowers in the spring. Japanese maple trees grow up to 25 inches tall and wide, ideal as a focal point tree in the front yard. Their slow-to-moderate growth rate and medium-to-fine texture create an impressive landscape tree. Japanese maple trees require light shade and well-drained, moist soils. Their USDA hardiness zones are 5 to 8.