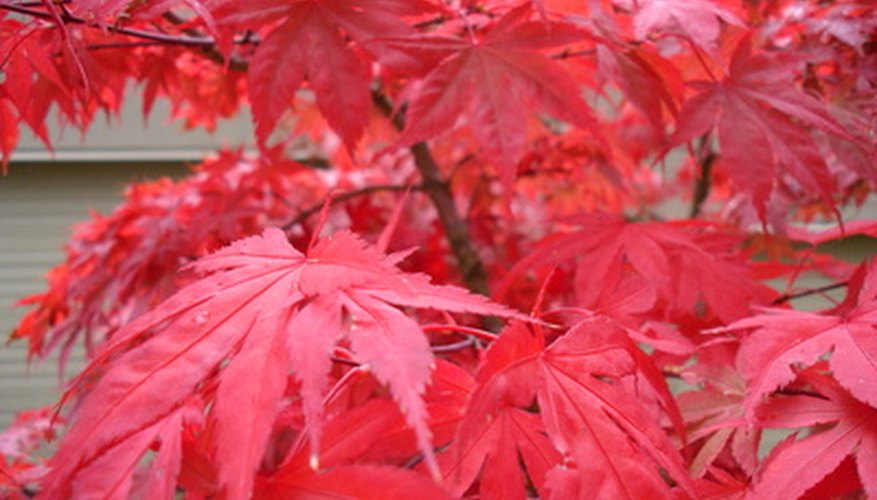 With more than 700 different species, Japanese maple trees encompass a wide variety of showy plants that are attractive all year long. The cascading branches on some Japanese maples offer landscapes a mound of brilliant leaves and textures. Every spring Japanese maples fill out with new growth for a symphony of fresh, new colorful leaves. Nestled within a large container or flanking a garden walk, Japanese maple trees are hardy, landscape essentials.
Olson's Frosted Strawberry Japanese Maple
The Olson's frosted strawberry Japanese maple is a showy tree that grows up to 10 feet high and wide. Its cascading branches are wide and contain showy foliage in bright colors. The foliage starts off as strawberry red and slowly transitions to pale pink. The deeply divided leaves have serrated edges that curve at each leaf tip. Olson's frosted strawberry Japanese maple prefers medium to wet, well-drained, acidic soils. Strawberry Japanese maples also require part shade and are ideal tucked into a front-yard garden or along a backyard patio for bright and interesting colors and foliage. Olson's frosted strawberry maple is frost tolerant. Its USDA hardiness zones are 6 to 9.
Oshu Shidare Japanese Maple
Oshu Shidare Japanese maple has colorful red foliage that is deeply divided and long-lobed. Beginning in the spring, the cherry red leaves contrast with the green bark for a showy landscape. Transitioning into the summer, the leaves turn to green and finally back to red in the fall. The wide spreading, pendulous branches are slow growing and reach up to 10 feet high and wide. They are low maintenance and prefer well-drained, acidic soils and consistent watering. Oshu Shidare maples are frost tolerant and prefer full to part shade to thrive. Their USDA hardiness zones are 6 to 9.
Bloodgood Japanese Maple
The bloodgood Japanese maple is known for leaves that remain red for the entire summer. Its medium texture has a round shape that grows up to 20 feet tall and wide. The trunk on the bloodgood maple is gray and contrasts with the brightly colored leaves. Bloodgood maples' canopy-shaped branches billow to the ground for a striking design. Every spring, the bloodgood maple produces red, elongated flowers that range up to 1 inch wide. The star-shaped leaves are serrated and range from 2 to 4 inches long, and purple to red in color. Bloodgood Japanese maples require slightly acidic soil and partial shade. Its USDA hardiness zones are 5b to 8.