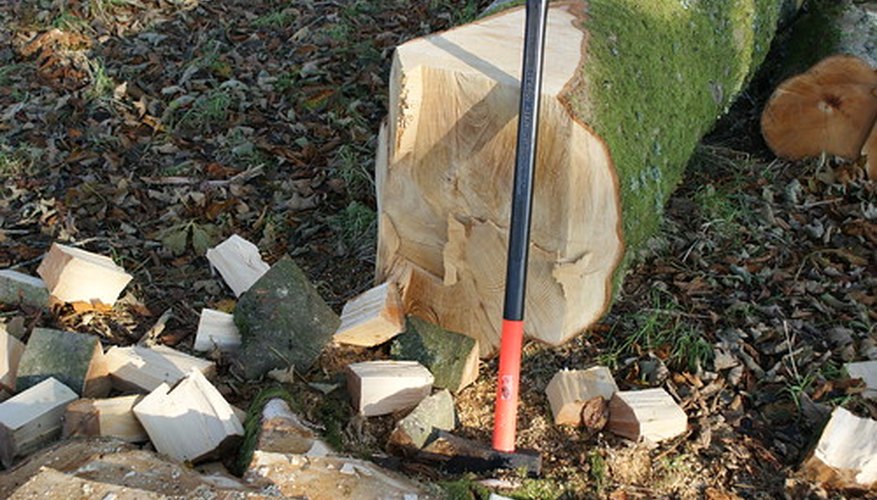 After a tree is cut down you are left with a stump (remainder of the trunk), and the underlying roots of the tree. If the tree that you cut down is small--the diameter of the trunk is only an inch or two--trunk removal is fairly easy, but when the tree that you removed is larger, trunk removal can be difficult.
Significance
The main reason for tree trunk removal is the unsightliness of the tree stump within your landscape design. Removal of the tree trunk is also necessary if you plan on planting something in that area. The trunk and most of the underlying roots need to be removed so that you can work the soil sufficiently in order to plant another tree, shrubs or flowers.
Roots Must Also Be Removed
If you do not remove the majority of the roots, you will be dealing with sucker growth for several seasons. Remove suckers (shoots that grow up from the roots) by cutting them off with a hand pruner or by mowing over the area where the tree stood.
Manual Removal
Remove small tree stumps manually by digging out the stump. According to This Old House, the basic procedure is to cut the roots and remove them with a grub hoe.
Chemical Removal
Another method of removal is by the use of chemicals. These products speed up the decaying or decomposition process. Chemical removal works by drilling holes into the tree trunk/stump, and filling the holes with the chemicals, following the manufacturer's directions.
Naturally
You can choose to let the tree stump decay naturally, which is the slowest method out of the tree trunk removal methods. This works well on small stumps; cut the tree down as low as you can to the ground, and cover the stump with soil, or mulch. The soil or mulch will create bacteria that aids in decomposition or decay.
Mechanically
Stump grinders can be rented from equipment rental stores, or you can choose to have a professional tree service remove the stump for you using a stump grinder. A stump grinder is a machine that grinds up the stump 6 to 12 inches below the surface.
Keeping the Trunk
If you choose to leave the tree trunk, use your creativity: place a flower pot filled with flowers; a pole and birdfeeder; or a birdbath on the top of the stump. These remove some of the unsightliness of the trunk, and the trunk becomes a focal point within your landscape design.