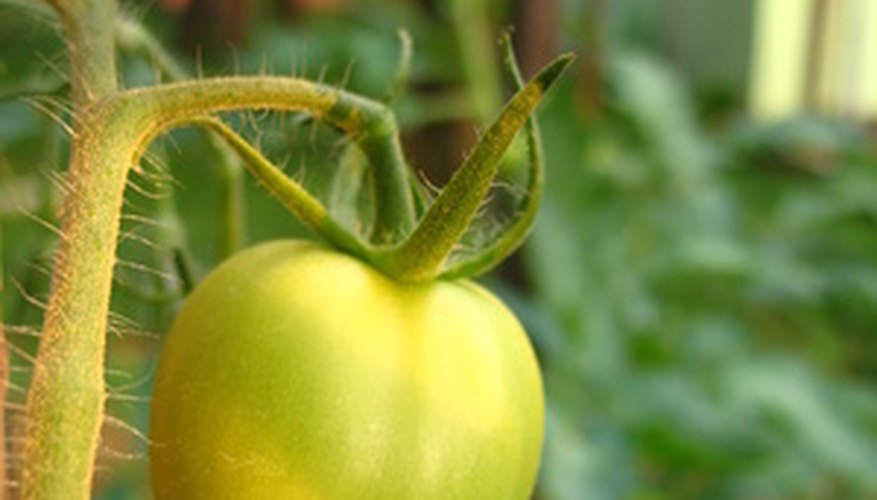 There are hundreds of varieties of tomatoes available today for the home gardener, according to the University of Illinois Extension. Most tomato plants can grow to be tall and full when properly cared for and well maintained; combine proper care with careful plant selection to increase your chances of growing tall tomato plants. Choose varieties that characteristically grow tall.
Brandywine
Brandywine tomato plants date back to the late 1800s. They are a tall growing, Amish heirloom type that has been voted the best tasting tomato variety in numerous contests for many years. Brandywine tomatoes are energetic producers of sumptuous, blushing red fruit that can weigh up to 1 1/2 lb. each. Brandywines are favored by tomato enthusiasts because of their rich, creamy taste. Plant them 4 to 5 inches deep in rich, moist soil. Surround each plant with a wire tomato basket. Baskets can be purchased at most garden centers and specialty stores. For best results, plant Brandywine tomatoes within the USDA hardiness zones of 4 to 8.
Sun Gold
Sun Gold tomatoes are a variety of cherry tomato that ripens to a bright, yellow-orange color. This variety produces fruit vigorously and enthusiastically throughout the warmer months. The fruit of this tomato usually weighs about 1/2 oz. and tastes sweet and citrusy. The intense fruity flavor of this tomato makes it an all-around favorite for tomato growers worldwide. The small fruit of this tomato plant allows room for the foliage to grow tall. Place Sun Gold seedlings 4 to 5 inches deep in healthy, rich soil. Stake the plant early to prevent it from falling over once it has produced fruit. The support from the stakes will also help the tomato plant grow stronger and taller. This plant grows well with USDA hardiness zones of 4 to 8.
Goliath
Goliath tomatoes are a hearty and robust type of heirloom tomato. Heirloom tomatoes are openly pollinated varieties that have had their seeds passed down for many years. They tend to grow strong and tall. Goliath tomatoes are named for their giant foliage and enormous fruit. Goliaths are early producers that grow bright-red fruit right up until frost. Fruit from this tomato variety usually weighs in at 1 to 2 lb., but it is not at all unusual for this type of tomato to produce fruit weighing in at a massive 3 lb. each. Hardy, disease resistant and full of sweet, tangy flavor, Goliath tomatoes are an all-around favorite tall grower. Place Goliath seedlings 4 to 5 inches deep in rich dirt. Be sure to stake Goliath tomato plants early on because of their substantial fruit. Staking the plants will support them and help them grow taller. Another great way to support the plants and help them to grow taller is to place wire tomato baskets around them. Purchase these at most garden supply stores. Just make sure to purchase baskets with holes that are big enough to reach a hand through and pick the tomatoes.