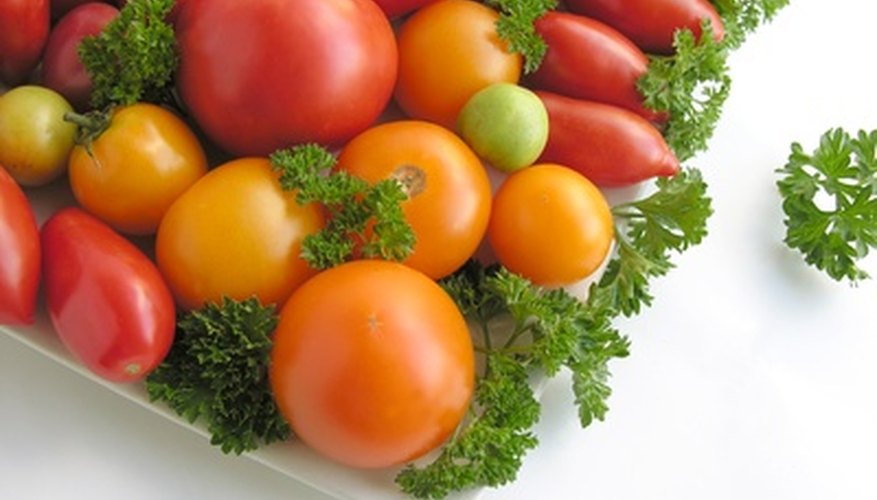 According to statistics, there are approximately 10,000 varieties of tomato plants grown for canning, cooking, fresh eating and other uses. Heirloom tomatoes make up around 600 of these varieties. Many tomato enthusiasts consider heirloom--open-pollinated varieties passed down in the same form by generations of gardeners--tomatoes to be among the most flavorful varieties available. These types of tomatoes come in many different colors, shapes, and sizes.
'Black Plum'
'Black Plum,' an heirloom variety, was voted the best tasting heirloom tomato by "Fine Gardening" magazine in 2002. This variety grows oblong, mahogany colored tomatoes, each about 2 to 3 inches long. The fruit of this tomato has a honeyed and tangy flavor. This heirloom tomato comes from Russia, so it grows just as well in colder climates. For the best outcome, plant 'Black Plum' tomatoes within the U.S. Department of Agriculture Plant Hardiness zones 7 to 9.
'Brandywine'
Voted best-tasting tomato in numerous contests for many years, 'Brandywine' is named as a favorite by both "Organic Gardening" magazine and Mother Earth News online. 'Brandywine' is an Amish heirloom variety that dates back to 1885. This tomato is an energetic producer of blushing, pinkish-red fruit, each weighing in at up to 1 ½ pounds. 'Brandywine' tomatoes have a rich flavor. Add them to sauces, soups, and salads, or top off a burger or sandwich with this tomato. 'Brandywine' comes in several color varieties--scarlet red, black and yellow.
'Sungold'
Named one of "America's Favorite Tomatoes" by Mother Earth News, and by the users of GrowVeg.com, 'Sungold' tomatoes are a breed of cherry tomato. They ripen to a beautiful and unusual color. Throughout the warm months, the plants vigorously and quickly produce bright, yellow-orange fruit that is said to have a citrus flavor. Toss these tomatoes with other varieties of cherry or grape tomatoes for a colorful and tasty salad. 'Sungold' tomatoes have an undefined USDA hardiness zone, but are a favorite among tomato enthusiasts because they can produce fruit in either warm or cold weather conditions.
'Goliath'
One of the most delicious types of heirloom tomatoes, as noted by "Fine Gardening," this variety gets its name the sprawling foliage and enormous fruit that it produces. 'Goliath' tomatoes are early tomatoes that enthusiastically produce mammoth red fruit. The tomatoes usually weigh in at around 1 to 2 pounds each, but can regularly reach 3 pounds each. The variety is hardy and disease resistant with a sweet, juicy flavor.
'Caspian Pink'
'Caspian Pink' is an heirloom variety that occasionally beats 'Brandywine' in flavor tests, according to the University of Nebraska Cooperative Extension. 'Caspian Pink' is a Russian tomato with an indeterminate habit that produces fruit in approximately 80 days.