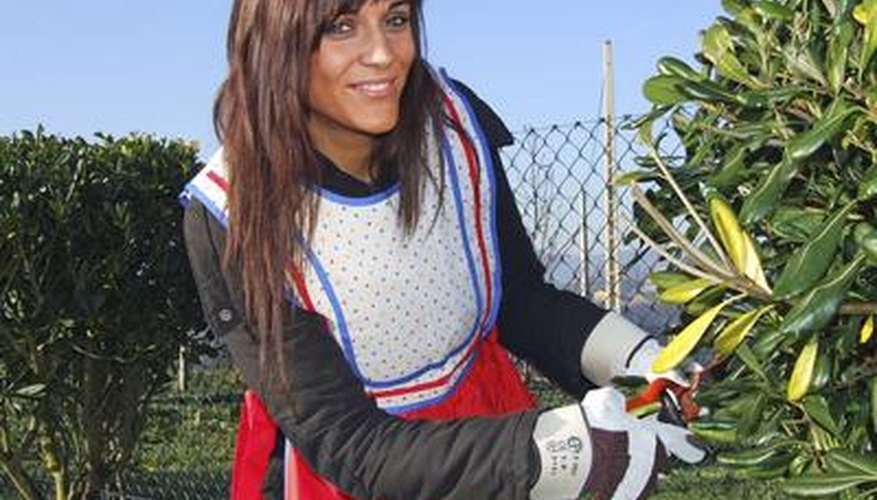 Gardeners use a variety of chemicals to keep their gardens and yards in top condition. Herbicides kill off unwanted weeds that can ruin the lawn and sap nutrients from ornamental plants. Fertilizer provides essential nutrients to plants. Sprayers give gardeners an efficient way to distribute these chemicals throughout the property.
Shindaiwa Sprayer
Backpack sprayers make the job much easier; gardeners need not carry around the sprayer on their back. According to Lawn Chat, the Shindaiwa sprayer is one of the easiest to repair because many of its parts are replaceable -- just pop out the old broken part and put in a new one. Gardeners must frequently pump the sprayer with one hand while the other hand controls the direction of the spray.
Solo 1-Liter Piston Pump One-Hand Pressure
The Solo 1-Liter Piston Pump One-Hand Pressure sprayer is very small, so gardeners can take the sprayer wherever water or other liquids are needed. Its light weight also makes this sprayer easy to carry. The sprayer has a seal that keeps chemicals from seeping out. The outside of the sprayer is durable to reduce punctures that can let chemicals leak out.
Gilmour 2000P Premium 2-Gallon Traditional
Small sprayers are not practical for gardeners with really large lawns. The Gilmour 2000P Premium 2-Gallon Traditional sprayer can hold a lot of liquid so gardeners do not have to frequently refill the sprayer. The container can resist abrasive chemicals, punctures and UV radiation. The design of this sprayer makes it easy to clean.
Hozelock
The Hozelock sprayer comes with replacement washers and nozzles. This sprayer can contain industrial strength chemicals, and can also spray liquids as simple as water. This sprayer can hold 10 liters. Gardeners pump the sprayer to release the liquid. Compression sprayers can release more precise amounts of liquid than other kinds of sprayers. However, this kind of sprayer is more likely to clog. Gardeners pump to create pressure in the sprayer, which releases the liquid.
High Impact Pump Sprayers
For the largest jobs, gardeners should use pump sprayers. These sprayers can be of high-impact plastic or galvanized steel. They can hold up to five gallons of spray mix. The pump keeps the spray mix in suspension and keeps the mix powders from settling at the bottom. Gardeners can either adjust the sprayer to release a fine mist, or adjust the sprayer for long-distance streams of liquid.