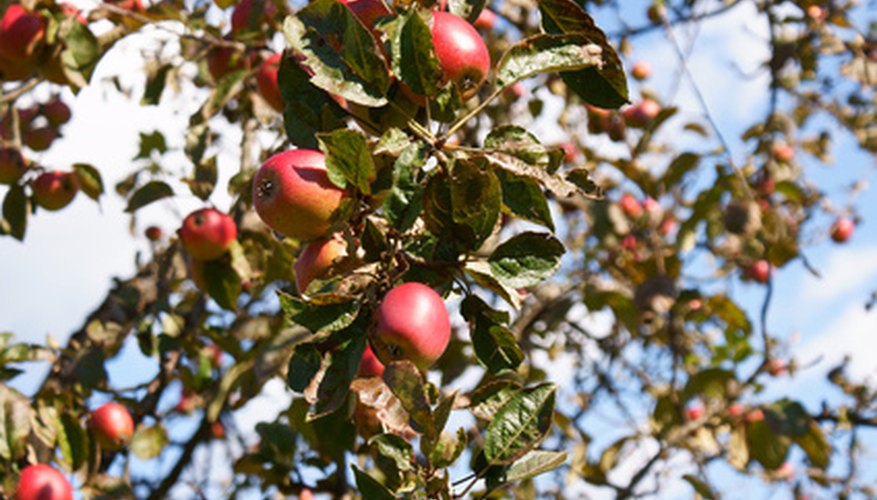 Fruit trees are a desirable addition to any home landscape, but many gardeners don't realize that fruit trees grown in Western Oregon are host to a number of serious insect pests. Oregon lists fruit among its most profitable agricultural products, and commercial orchards rely on responsible home growers to comply with fruit tree spraying regulations to protect the value of their crops. Knowing which insects to target is the first step.
Coddling Moth
Coddling moth adults are small, gray-winged moths that flutter near apple and pear trees. Their larvae, cream-colored and wormlike, can cause devastating damage to pome fruits by boring into the mature apples and pears -- including ornamental crabapples and pears. The counties of Jackson and Hood River require control with sprays. Sprays must be applied starting 10 days after spring bloom ends and continued every 10 to14 days until fruit is ripe.
Apple Maggot
Adult apple maggots are a shiny black fly, distinguished by the pattern of four black streaks on their white wings. As they grow, the larvae eat through apples, plums and prunes. Hood River, Josephine and Jackson counties all require spray control for the apple maggot. Apply spray every 10 to 14 days from late July until fruits are ripe.
Pear Psylla
Small-bodied insects with large wings, pear psylla cause damage only to pear trees. Their hard-shell nymphs feed on young leaves by sucking phloem from the tree's cells, leaving behind a sticky substance called honeydew that creates blotching on mature fruit. Large populations of pear psylla nymphs can also cause tree defoliation. Hood River, Josephine and Jackson counties require spraying for pear psylla. Spraying for pear psylla must be done from late winter through harvest for effective control.
Cherry Fruit Fly
Similar to the apple maggot, cherry fruit flies have white wings with black bands. Their larvae feed on the flesh of both sweet and sour cherries. Hood River, Lane, Linn, Marion, Polk and Yamhill counties all require spray control for the cherry fruit fly. Spraying should begin once the fruit flies emerge from their eggs, typically around Memorial Day, and be repeated every one to two weeks until fruit is ripe.
Tips for Success
Owning fruit trees requires responsible management. Consider removing large trees that are difficult to monitor, replacing them with dwarf trees that do not require using ladders or large amounts of spray. Also, apply pesticides effectively by choosing calm, relatively cool weather to minimize drift and evaporation. Oregon State University Extension has the most up-to-date information regarding fruit tree spray requirements.