Takeshi Umezu / EyeEm/EyeEm/GettyImages
Think of ground cover as carpeting for your garden, a mat of low-growing plants installed to add rich texture underfoot. This layer of plant life can serve as a lawn substitute, but you can also plant it between pavers to prevents weeds from raising their unwelcome heads. You'll need different types of ground cover plants, depending on the terrain and the exposure of the paver area. And, there are many choices out there.
Many Uses for Ground Cover
In this water-saving age, many gardeners turn to drought resistant ground cover plants to replace thirsty lawns. But ground cover can also be used to fill in smaller areas of the backyard or between pavers in the driveway.
Ground cover plants must stay short enough to serve as a blanket of foliage. Ideally, they will also be low-maintenance and drought resistant, vigorous but not invasive, and also a pleasure to look at. Here are some favorites.
Classic Ground Covers for Sun
If you want to plant ground cover between pavers in a sunny location, be sure your chosen plants like the exposure you have to offer. Here are a few that love full sun.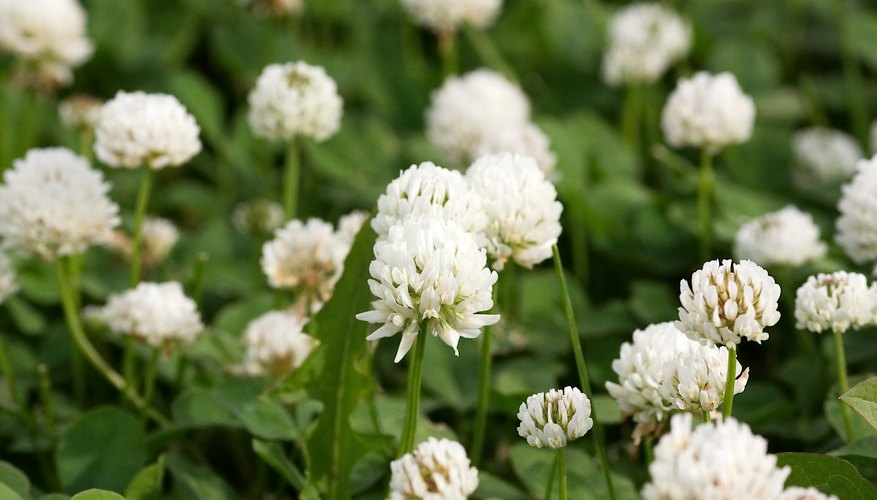 Mark R Coons/iStock/GettyImages
White Clover (Trifolium repens)
Low-growing white clover makes a great lawn substitute in USDA zones 4 though 9. It tolerates almost any type of soil, remains green even during dry months and feels lovely to walk on. You don't have to cut white clover, and it doesn't need fertilizer or a lot of water.
skymoon13/iStock/GettyImages
Purple Wintercreeper (Euonymus fortunei var coloratus)
This vining evergreen grows to 6 inches tall and creeps, trails and cascades down slopes and walls. It thrives in USDA zones 4 through 9 in any exposure, from full sun to dense shade. Look for deep purple foliage in autumn.
Schlegelfotos/iStock/GettyImages
Roman Chamomile (Chamaemelum nobile)
This fragrant, low-growing plant thrives in hot, dry conditions and decorates the yard with bright green foliage and tiny chamomile-like flowers. You'll need to trim back to 2 inches after the flowers fade to keep it compact. Hardy in USDA zones 4 through 9.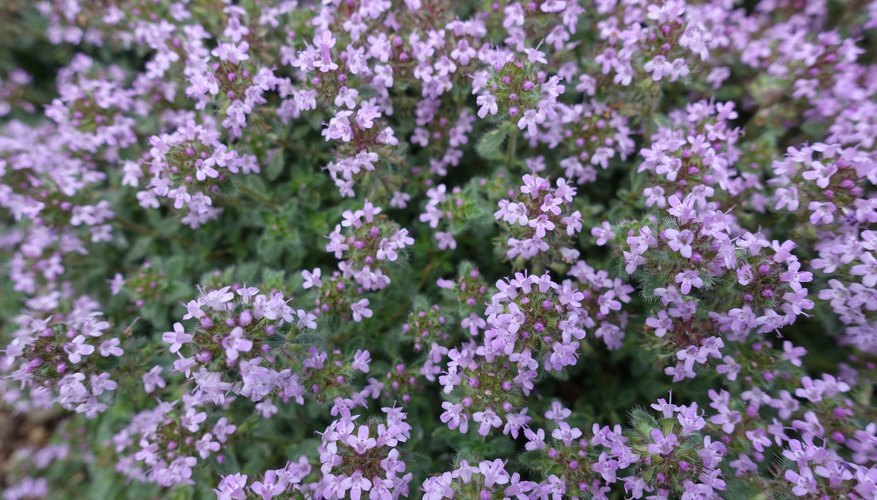 apugach/iStock/GettyImages
Thyme or Woolly Thyme (Thymus spp.)
Thyme is a wonderful ground cover, especially because stepping on it feels and smells nice, since it releases its delightful fragrance. Woolly thyme develops into a sturdy carpet of fuzzy gray-green leaves, with tiny pink flowers in summer, and thrives in full sun. Hardy to USDA zone 5 or 6.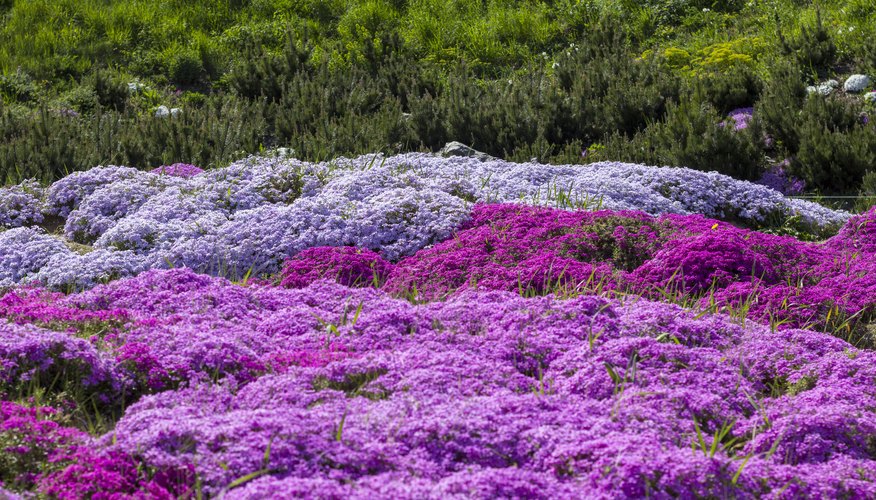 MaYcaL/iStock/GettyImages
Creeping Phlox (Phlox subulata)
These short plants are blooming beauties, covering your ground in white, purple, blue or pink flowers in springtime and green foliage all year long. They get no taller than 6 inches and thrive in USDA zones 3 through 9. You'll need to water it only during dry spells.
Poravute/iStock/GettyImages
Angelina sedum (Sedum rupestre 'Angelina')
The golden flowers of Angelina sedum spread out to cover empty ground quickly, but the plant won't become invasive. You'll get those yellow flowers (about 6 inches tall) all summer long in USDA hardiness zones 5 to 8.
For partial shade areas, go for: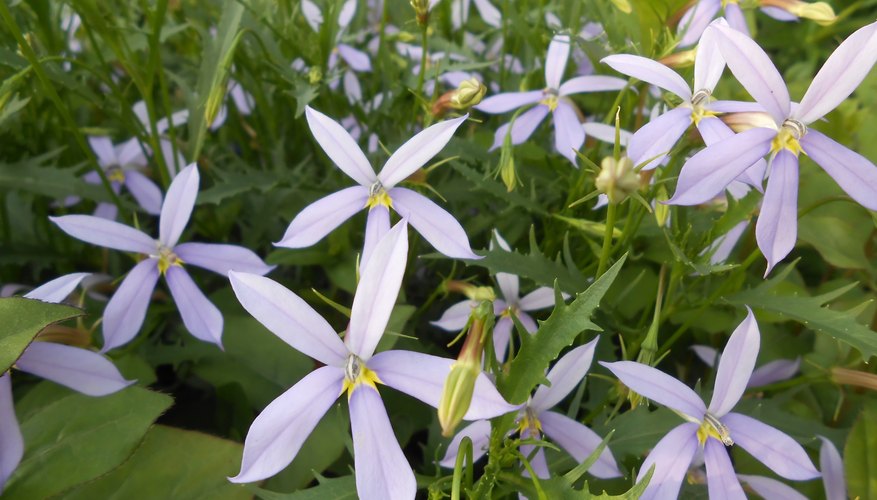 Maria_Ermolova/iStock/GettyImages
Blue Star Creeper (Isotoma fluviatilis)
This creeper has tiny green leaves and doesn't mind if the entire family hikes over it regularly. In the growing season, spring through fall, you'll enjoy its pale blue blossoms. Plant in dappled or full sun in USDA zones 6 through 9.
Common Ground Covers for Shade
Shady areas require plants that tolerate shade. If your pavers are in shade, try one of these ground covers:
Anton Litvintsev/iStock/GettyImages
Spotted Dead-Nettle (Lamium maculatum)
This unusual plant has silvery, two-tone leaves that light up shady areas. It's a perennial plant with unexpected blooms from mid-spring to early summer. Plant in USDA zones 3 through 10.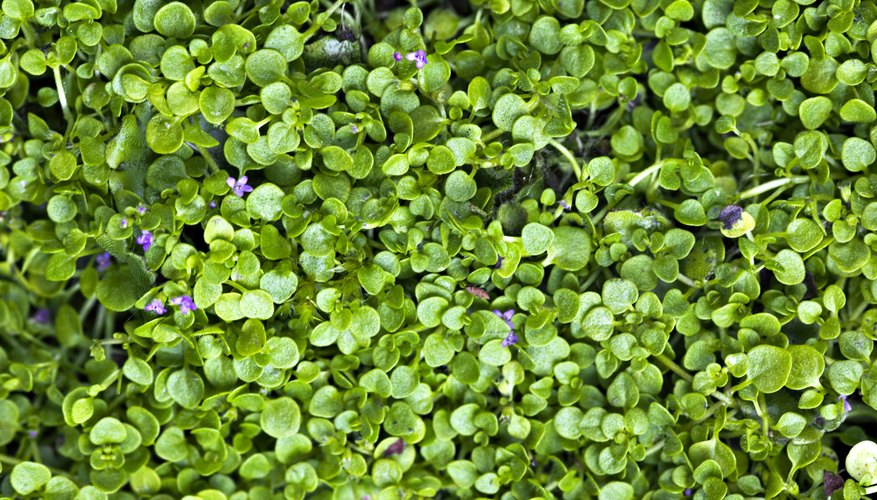 Francois De Heel/Photolibrary/GettyImages
Corsican Mint (Mentha requienii)
Walk on the tiny leaves and pale mauve summer blossoms of this plant, and you'll find yourself in a waft of minty fragrance. It's ideal for shade, but can take a little afternoon sun. Plant in USDA zones 6 through 10.