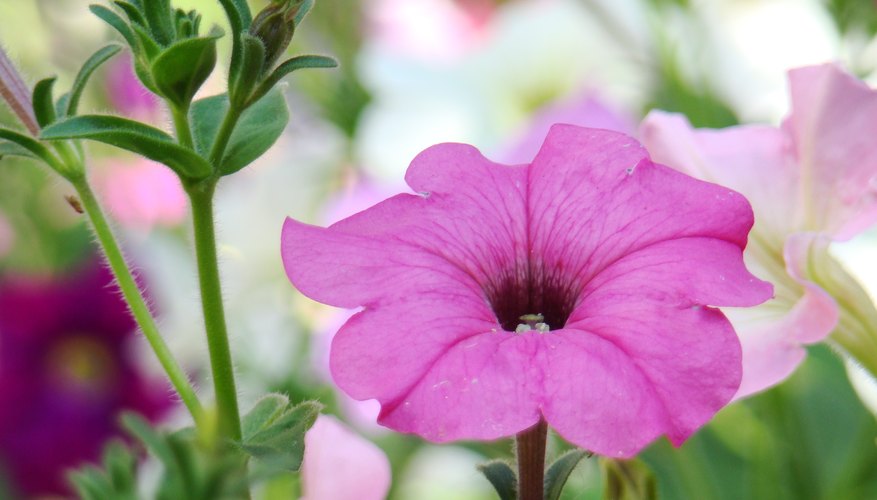 Dmitry Volkov/iStock/GettyImages
Pretty, bright and easy-to-grow, popular petunias have a place in every summer garden. These flowers surf the sunshine all season long, repeat blooming effortlessly as long as you treat them right. Although they are officially perennials in warmer zones, petunia plants are usually grown as annuals, which allows gardeners to profit from the new, improved varieties that hit the market every year. You want to enjoy petunia flowers all summer long? Here's how.
All About Petunias
While the petunias (Petunia spp.) that grow wild in nature were native to South America, you don't see many of these plants in cultivation anymore. Today, gardeners grow petunia hybrids, (Petunia x hybrida), generally belonging to the nightshade family (Solanaceae) like tomatoes and peppers.
Petunia flowers are often classified into two types:
grandiflora petunia plants
multiflora petunia plants
The former type has larger blossoms while the latter has more blossoms. Further, note that the flowers and plants available in commerce vary greatly.
Some plants are compact, only getting 6 inches tall, while others grow twice as high. Likewise, the spread can vary from 18 to 48 inches. The size of the petunia flowers also vary, with flowers ranging from dime size to 6 inches across. Look for shape variations, too, with ruffled, fringed or double blossoms available in almost every color of the rainbow.
This great variety makes petunia plants welcome in almost any part of the landscape. Use them in beds to get a swath of color, as bright bed borders or in hanging baskets where the blossoms seem to bubble over the edges. Petunias can also be used as seasonal ground cover.
Planting Petunia Flowers
Petunias won't survive a frost, which is why they are grown as perennials only in U.S. Department of Agriculture plant hardiness zones 9 through 11. But many mild-winter gardeners opt to grow petunia plants as annuals. That means they last for one season only, but what a season it can be!
Prolific bloomers, petunias will brighten your garden all summer long. Transplant seedlings into the ground just after the last spring frost and they will likely thrive until the first hard frost of winter.
While you can grow your own petunia plants from seed, they germinate notoriously slowly and require constantly moist soil until they are ready to transplant. Planting seedlings from the garden store is delightfully easy: transplant them in a full-sun location in light, well-drained soil after the final frost.
Caring for Petunia Plants
Like most garden flowers, petunias require some water and some fertilizer. But here, "some" means not much. A once-a-week deep water will keep your flowers happy. Fertilize once a month to keep those new flowers coming. If you opt for double-blossoms, you'll need to fertilize more often, at least every week.
If you've heard that petunias won't produce new flowers unless you take off the dead ones, you are partially right. Deadheading petunias used to be an absolute requirement, since the older varieties of petunia plants won't produce new flower buds, otherwise. And it's not entirely fun since the leaves can be sticky.
Some new petunia hybrids, like Supertunia® (part of the Proven Winners® plant line), don't require deadheading. They are billed as "self-cleaning," and the spent flowers just fall right off. But you'll still want to pinch the petunia plants back in the middle of the summer to keep them compact and full of flowers. Shearing also works well for this.