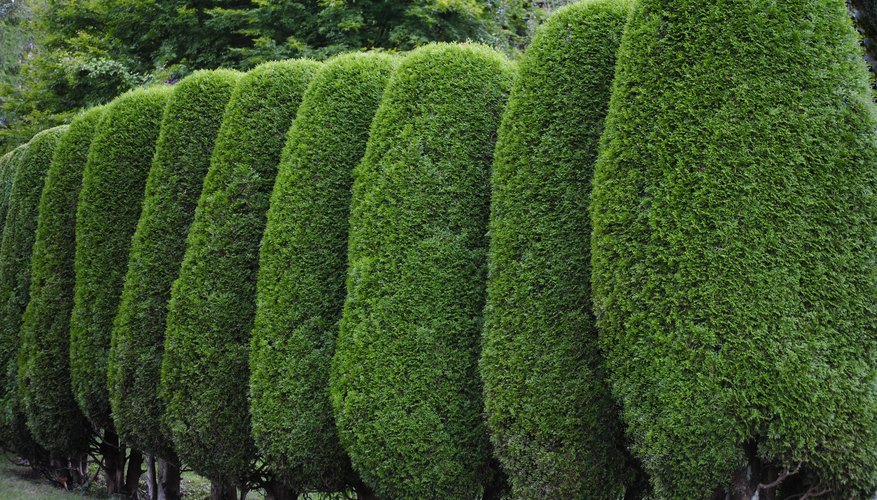 A hedge can be a homeowner's best friend in a garden. Hedges are useful in many ways, from blocking the view of curious neighbors to concealing an unsightly area of the backyard. Which hedge plants work best for ensuring your privacy? Here are six excellent hedge plants to consider.
Plants and Privacy
In yesteryear, landowners constructed fortress walls to keep people from interfering with their privacy. Today, many homes rely on walls or fencing to keep nosy folks from peering inside private areas of the backyard.
However, hedges work better than walls in several ways. Walls are made of cold, unmoving stone, while hedges are living shrubs or trees. Hedge plants are green and growing, their branches sway in the breeze, act as sound breaks and windbreaks, invite wildlife into your backyard and even smell sweet after the rain.
Evergreen Versis Deciduous Hedge Plants
The best privacy hedge plants create a screen around the areas of your yard you want protected. Generally, these are evergreen plants that grow relatively quickly, are attractive and don't require constant maintenance. Evergreen plants hold onto their leaves all year long.
But some people want a privacy hedge only during the summer months. This may be the case if you use the pool only in summer, or if your hedge might shade your home in winter when you want to invite the sun inside. If you only want summer hedge protection, opt for deciduous hedge plants that lose their leaves when the cold weather comes. These can be very ornamental, offering flowers in springtime and an autumn display of leaf colors.
Best Hedge Plants
Many shrubs and trees make great hedge plants, so it's hard to make a decision. Here's our take on six of the best hedge plants for privacy hedges.