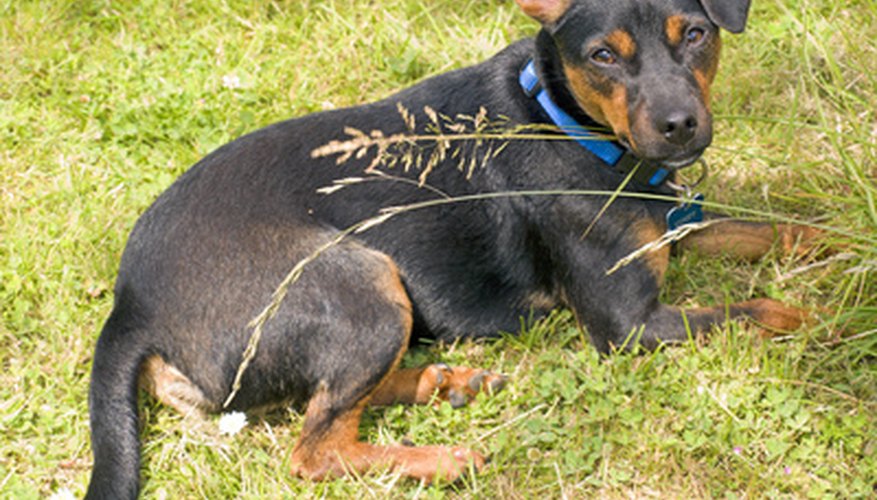 Although your dog may be your best friend, she can also be your lawn's worst enemy. Digging can uproot segments of your lawn, while dog urine can cause chemical damage to the blades and roots of your grass plants. Scotts Turf Builder EZ Seed Dog Spot Repair contains a variety of ingredients than can help repair the damage caused by pets.
Pet Damage
The urine from wildlife, such as deer, geese and foxes, can discolor and damage your lawn. However, dogs are the most frequent cause of dark green and brown patches that show up in your lawn. A high level of concentrated salts in pet urine may be responsible for the areas of grass damage. Urine damage often appears as a circle of dead grass surrounded by a ring of dark green grass.
Fertilizer
Scotts Turf Builder EZ Seed Dog Spot Repair comes in a 2-pound jug that treats up to 100 dog spots. The product contains a combination of ingredients, including grass seed, a neutralizing agent and an absorbent material.
Method
This lawn fertilizer can help improve the health of your lawn by absorbing water to provide a moist environment for the grass seeds and by neutralizing the destructive effects of the salts in pet urine. The coated seeds can create new lawn growth in high-traffic areas and in turf damaged during digging.
Usage
Scotts Miracle Grow Co. recommends removing dead grass and loosening hard soil prior to applying Scotts Turf Builder EZ Seed Dog Spot Repair. The instructions direct users to apply a thin layer of the lawn treatment over areas of pet damage. The product turns light brown, signaling the need for water. Mowing after the new seedlings reach a height of about 3 inches will allow adequate time for repair and growth.
Considerations
According to the Scotts Miracle Grow website, this lawn treatment for pet spots is safe for kids and pets when used as instructed. The product is 99.9 percent biodegradable. Although the best time to apply this fertilizer is in the fall and spring, any time when the temperatures are between 60 and 80 degrees will comply with the temperature guidelines. Avoid using this product over areas recently treated with weed killers. You may need to wait several weeks after using an herbicide to apply a lawn fertilizer that contains grass seeds.