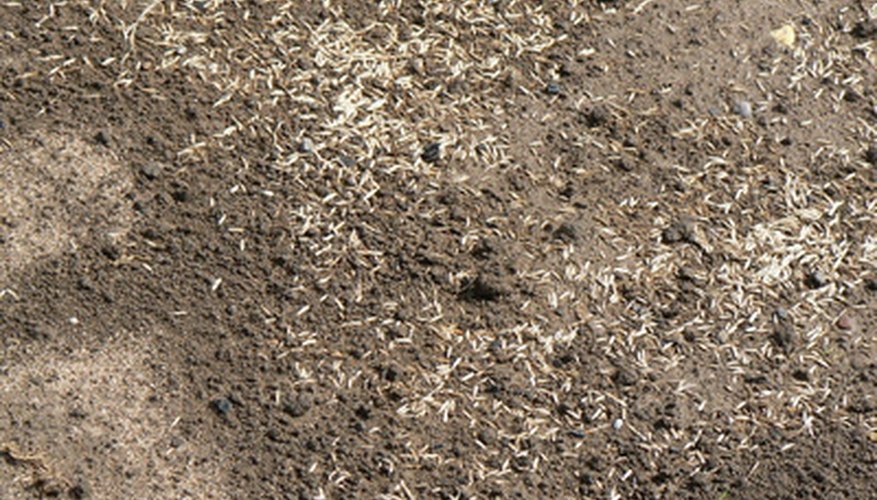 Maintaining a lawn is often the most extensive and time-consuming task in the entire landscape. However, this same stretch of green is often the first thing visitors and neighbors notice about your yard. A successful lawn begins with the initial site preparation and planting technique. Grass seed spreaders are an important tool in establishing a lawn from seed. Scotts is a company that manufactures and sells a variety of seed spreaders.
Selections
The Scotts Miracle-Gro company, owned by the Scotts Company LLC, is the manufacturer of the Scotts-brand spreaders. It offers various types of walk-behind and hand-held spreaders, including the AccuGrenn 2000 Drop Spreader, HandyGreen II Hand-Held Spreader, Deluxe EdgeGuard Broadcast Spreader and Basic BroadCast Spreader. These different models offer certain benefits that make them suited to specific areas of application.
Uses
Scotts spreaders provide an inexpensive method for seeding or fertilizing your lawn. These manual implements throw out granulated fertilizers or grass seed, broadcasting the small particles in a swath over the surface of the soil. While the larger push-style spreaders hold more seed and cover a wider path, they may be too large for some applications. The small, hand-held seeders are better suited for planting new grass seed over small areas of prepared soil or reseeding bare patches of lawn in your yard.
Seeding Rates
The seeding rates for your grass seed depend on the variety of grass you plant. Scotts seeders have adjustable settings that allow you to determine how much seed to apply. At lower settings, the spreaders disburse less seed by covering a portion of the openings, limiting the rate of seed disbursal. The speed at which you walk also plays a major role in the number of seeds dropped during each pass.
Considerations
While the size and shape of your planting site may determine the pattern you use to spread your seed, even coverage requires uniform spreading. Dividing your seed in half and using your Scotts seeder to spread the first half in one direction, then going back over your site in the opposite direction with the remaining seed, will allow you to disburse the seed more evenly than planting all of it in one pass.
Warning
While drop spreaders are ideal for seeding new lawns, rotary spreaders don't provide uniform patterns due to the small, inconsistent size of the grass seeds, according to Purdue University