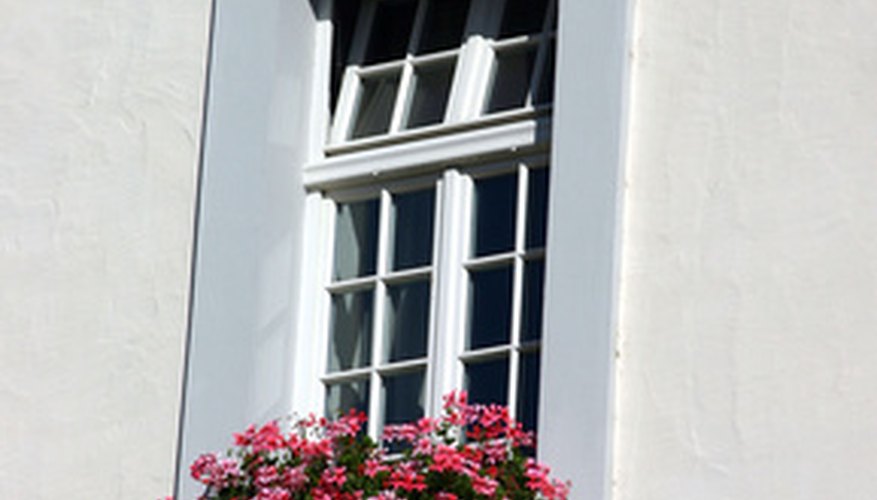 When you plan a container garden you can choose from many options including planter boxes made with plastic vinyl. These boxes, which are available in endless shapes and sizes, are ubiquitous for a good reason--they are much less expensive than terra cotta, cement and stone planters. Learn more about planter boxes made with plastic vinyl to discover their assets and limitations as you consider whether and how to incorporate them into your landscape design.
Types
Planter boxes made with plastic vinyl can be long, narrow rectangles designed for windows, or squares large enough for small trees and plants such as tomatoes. They range in quality from the very inexpensive varieties you can find at discount home accessory stores to higher-end models available in garden boutiques. Common colors include white, green and faux-terra cotta. Styles are sometimes plain, without embellishment, and sometimes more elaborate incorporating floral or geometric designs in relief. Often, vinyl planter boxes are sold with accompanying saucers.
Benefits
Plastic vinyl planter boxes are lightweight, making them great candidates for placing on window ledges and using as hanging boxes. Their lightweight quality also makes them easy to move around a deck or porch area. They are inexpensive. They are easy to spray-paint if you want to change their colors. Plastic vinyl planter boxes that exist for specific plants like orchids are designed to meet specific moisture needs--a plastic orchid pot contains holes at the bottom where roots can emerge. Plastic is impervious to water and air; plastic vinyl planter boxes retain moisture well during hot weather, meaning you don't have to water as often.
Limitations
Plastic vinyl planter boxes can look cheap, especially when they are sparsely filled. Collections of plastic pots can make a deck feel cluttered and tacky. Plastic boxes do not mix well with terra cotta and stone containers; they stand out as an element of your garden that needs upgrading. Plastic planters can crack over time, rendering them useless.
Considerations
Consider whether you want to invest in plastic planters or more expensive, hardy varieties as you plan your container garden. Plastic can detract from expensive plantings. For instance, a rose bush can feel out of place in a plastic pot. However unpretentious gardeners would not overlook any potential planting space; you can grow potatoes in plastic vinyl pots just as easily as you can in moss-covered crocks imported from Italy.
Suggestions
Work with the challenges of plastic vinyl planter boxes by planting them heavily, particularly with trailing flowers and vines that will eventually obscure the box itself. Unify a set of plastic boxes in various sizes, colors and shapes by spray-painting them all a color like dark green, which will recede rather than draw attention to the plastic. Try purchasing identical plastic window boxes for every window on your home and planting them with the same flowers to create an expensive look on the cheap.