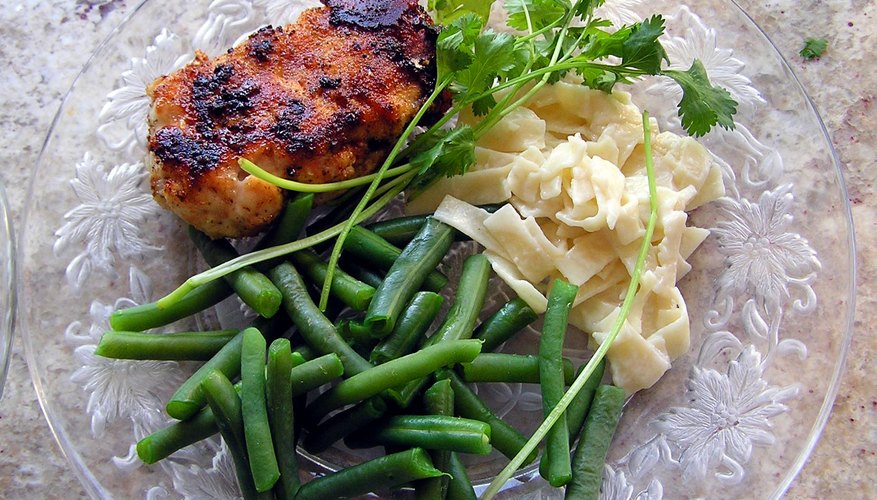 Preparing a quick, healthy dinner means you'll get to spend more time at the table with your family and less time in the kitchen. Healthy meals do not have to take hours of preparation. By keeping a few ingredients on hand you can have a solid, nutritious meal on the table in under 20 minutes.
Cooking Meat
Choose fresh foods that don't take long to cook in the first place. Thinner cuts of steak or pork, fried in the pan or broiled, cook in about 15 minutes. Chicken breasts, legs or thighs can be placed in a skillet and seared. Add a ¼ cup of water to the pan, cover and cook for 12 to 15 minutes. Fish can take only ten minutes to cook when cut into smaller pieces and broiled or fried in the pan. Microwaving meats for two or three minutes can also speed up cooking time on the stove top.
Prepared Foods
Let someone else do the work. In addition to bags of mixed salad greens and broccoli crowns, other cut or chopped fresh vegetables such as onions, carrots and potatoes are becoming more available. Boxed and frozen dinners can be stored in the pantry or freezer as a back-up. When you don't have time to prepare food from scratch, plenty of options exist that provide good nutrition.
Checking the Labels
Packaged foods can be wholesome and nutritious. Check the label when purchasing frozen, canned or prepared foods. Purchase brands that don't contain additives and and have a lowered sodium content. This applies to frozen dinners as well--the ultimate in quick meals. Many companies recognize that families want to make healthier choices and their product lines are beginning to reflect this.
Slow Cookers
Invest in a slow cooker. These are especially good for cooking meats and stews. In the morning combine dry rice and rinsed pieces of chicken, pork or beef into the cooker. Add a few seasonings, turn the unit on low and head to work. You'll have most of dinner prepared by the time you get home. Steam or saute some frozen vegetables and within minutes you can have dinner on the table.
Quick Meals
Canned beans or chili heated via stove top or microwave will make a quick filling for burritos or tacos. Add shredded cheese, salsa and lettuce for a complete meal. Pasta and a good jarred sauce can also be quickly mixed together. Pasta will hold well in the refrigerator for two to three days. When ready to use, just drop in boiling water and reheat within two to three minutes. Stir fry also makes a quick meal. Buy packaged vegetable mixes and add chicken or beef cut to biter size. Egg scrambles with spinach and chunks of turkey or ham can also be whipped up within 10 minutes.
References