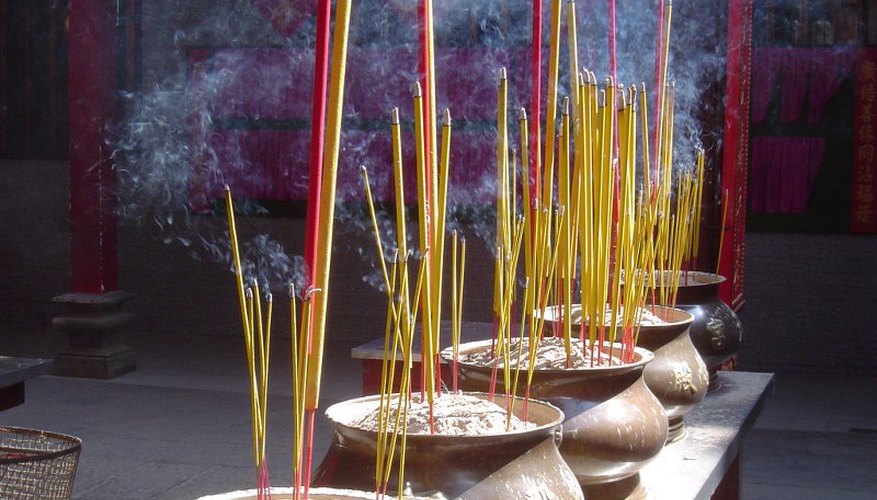 Patchouli was a very popular scent in the 1960s, both in perfume and in incense. The scent is still in use today as a perfume and as an ingredient in many other scented products. The oil that is used to make patchouli perfumes is derived from a plant of the same name. The scent is both rich and musky and the oil and leaves of the plant have both medicinal and bug repellent properties.
Geography
The patchouli plant (Pogostemon cablin) is native to the more tropical areas of Asia. It is currently cultivated in warm, tropical areas such as the Philippines, Caribbean countries, China, India and Malaysia.
Identification
The plant itself is a member of the mint family and grows as a bushy herb. The plant can get up to 3 feet tall and has small pinkish white flowers. The plant has large, furry leaves that can grow to 4 or 5 inches in length and width.
History
Patchouli oil has been used as a fragrance for centuries. The leaves have also been used as a preservative and an insect repellent. The oil had been used in traditional Eastern medicine for centuries as well. The scent became popular in both perfume and incense during the 1960s counterculture and hippie movement.
Function
Patchouli is used in the modern world as a perfume, an aromatherapy oil, an insect repellent, hair conditioner and skin health. A tonic from the leaves has been used to help treat diarrhea, colds and upset stomachs.
Warning
Never use patchouli tonics without the supervision and recommendation of a qualified herbalist or physician.