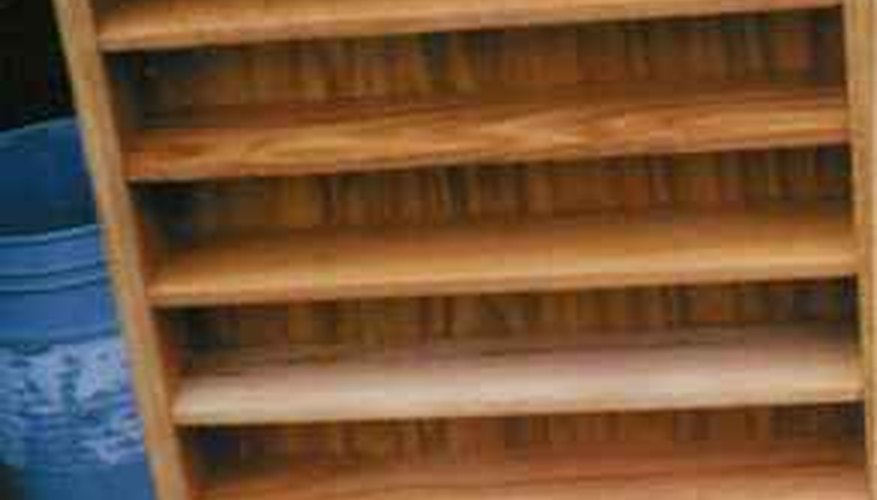 Whether they are figurines, music boxes or our favorite collection of pencil sharpeners, each kind desires a knick knack shelf all its own. Building a knick knack shelf to fit your specific need always makes your knick knacks look better. This kind of project would almost be considered a hobby in itself, but let's just call it a woodworking project. A minimal ability to use woodworking tools is required to complete this project safely.
Place the 18-inch plywood (ends) on a table side by side. Start from one end and make marks at ½, 3½, 4, 8, 8½, 11½ and 12 inches. Place the carpenter's square on each of these marks, and draw a line across the two end pieces.
Drill two pilot holes between each of the lines, indicating where the shelves will be attached. Next, apply some glue to the ends of two of the 30-inch pieces of plywood. Place them between the ends and secure them with the ¾-inch brads.
Place the other three 30-inch shelves on the table. Mark on the shelves where you would like to the dividers to go. The space between the shelves starting at the bottom is 3, 4, 3 and 5 inches. You can install the dividers last by simply gluing them into place. Because the shelf won't take much abuse, gluing them is usually the quickest and easiest way to perform this task. If you want to secure them with the brads, the best method to do so is to secure them onto the three remaining shelves and then secure the whole assembly inside the frame with the ¾-inch brads.
Apply glue to the ends of the remaining 30-inch shelves. Set them in place and secure them to the sides of the shelf unit with the ¾-inch brads.
Apply some glue to the edges of the knick knack shelf. Place the 18-by-31-by-¼-inch plywood on the shelf unit. Be certain to turn the good side in, and secure it with the ¾-inch brads.