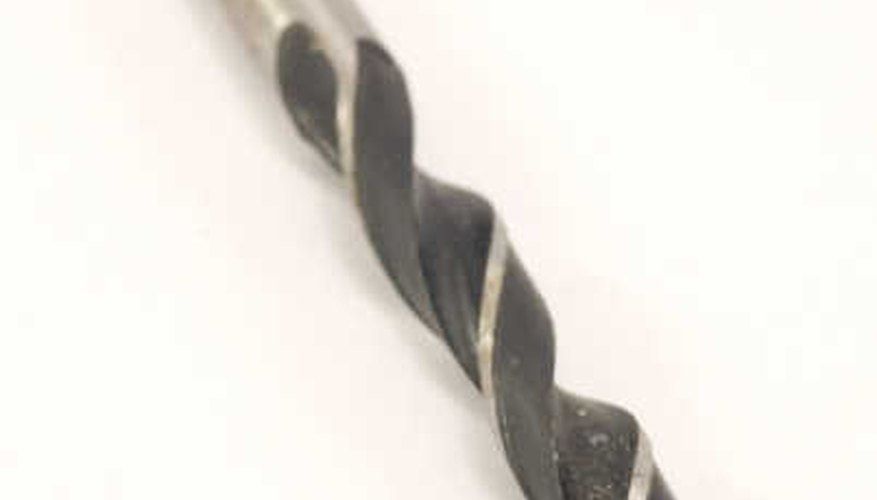 In many cases, a chair, table or shelf can appear irreparable because of a dowel broken off in one of the other furniture parts. However, with care the dowel can be drilled out and replaced with a new one to give new life to an older piece of furniture. With careful preparation, drilling out a wooden dowel is not difficult.
Prepare the Dowel
Depending on why the dowel is being drilled out from the supporting material, you may have to do some preparation work on the dowel. If it is broken and has splinters and broken wood, remove them as much as possible and try to flatten the dowel to the same level as the supporting material. If there is a large piece of dowel sticking up, you may need to use a coping saw or back saw to cut the dowel to the level of the rest of the wood. Sanding it down further can help later in the process.
Mark the Center of the Dowel
Measure and mark the center of the dowel. To do this, place a mark all the way across the dowel at its widest point. Repeat this in another direction to form an X. The center of this X should be the center of the dowel. Use a screwdriver, nail, awl or other punch to make a guide indentation in the center of the dowel.
Drill Out the Dowel
The final step is to drill out the dowel. The best bit to use for this is a forstner bit. Forstner bits are easier to center than other drill bits. It is important to be aware of the depth of the dowel. Either use a system to stop the drill from going all the way through the board or other wood from which the dowel is being removed or simply use your best judgment. It is better to use a stop or other indicator to avoid misjudging and drilling all the way through the wood. Drill presses allow for finer control of the process of drilling out the dowel. The wood from which the dowel is to be removed can be clamped to the wood press for stability. In addition, many wood presses have depth stops to keep you from drilling too deeply. Hand drills can work in a pinch, but you must be very careful to not drill too deeply and to keep the hand drill straight. To drill out the dowel, align a bit the same width as the dowel with the center punch guide and slowly drill out the dowel.
References