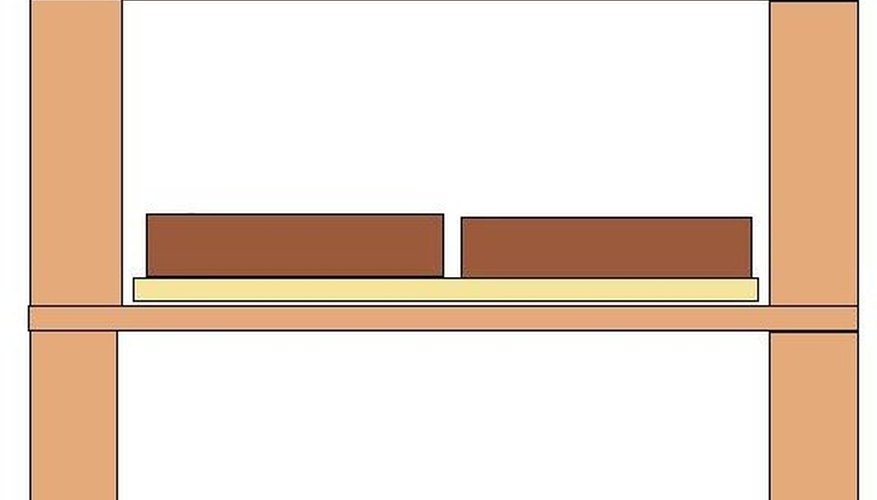 Whether you have made the decision to sell your fresh-grown produce for your income, extra spending money or because your garden yielded some overflow, making a produce market display stand is fairly simple. With little expense in materials or time, a quality display stand can bring a good return by offering an easy way for your customers to see your produce and buy what they need. This basic stand is made to stack, so make as many as you'd like and bring to market as much as you want.
Stand up the 4-by-4-inch posts on the ground. Set the large piece of plywood on top of the posts and adjust so the posts are flush at each corner. Nail two nails through the plywood and into the posts, keeping them about two inches apart. Attach all four leg posts in this manner.
Turn the platform so that the 3-foot-long side is in front of you. Lay the 2-by-2-inch board down on top of the platform about an inch from the front edge of the plywood. Adjust the board so you have six inches of space from each of the side edges of the plywood. Hammer a nail through the 2-by-2-inch board and into the plywood every four inches. This creates a front lip to rest produce boxes against.
Place the 2-by-4-inch board along the back using the same method of keeping six inches from the sides and an inch in from the back. Nail to secure with nails spaced four inches apart. This board will act as a prop for your produce boxes so they can tilt forward.
Assemble a produce box by laying two of the 16-inch boards side by side vertically on their narrow edge, about a foot apart. Place a 1-foot board horizontally along the edges, overlapping the ends of the other boards. Nail into place with two nails, two inches apart at each intersection. Attach another 1-foot board to the other end in the same manner; this creates the box frame.
Set a 12-by-18 inch piece of plywood over the box frame. Nail through the plywood along the edges every two inches to attach the bottom of the box. Create the other box the same way with the remaining materials.
Place the boxes on the display stand by setting the 12-inch edge of the front of a box up against the narrow lip.The bottom of the box will rest at an angle over the 2-by-4 board in the back. Both boxes can rest side by side with the 12-inch sides toward the front. For multiple displays, simply stack up to three stands with boxes on top of one another.