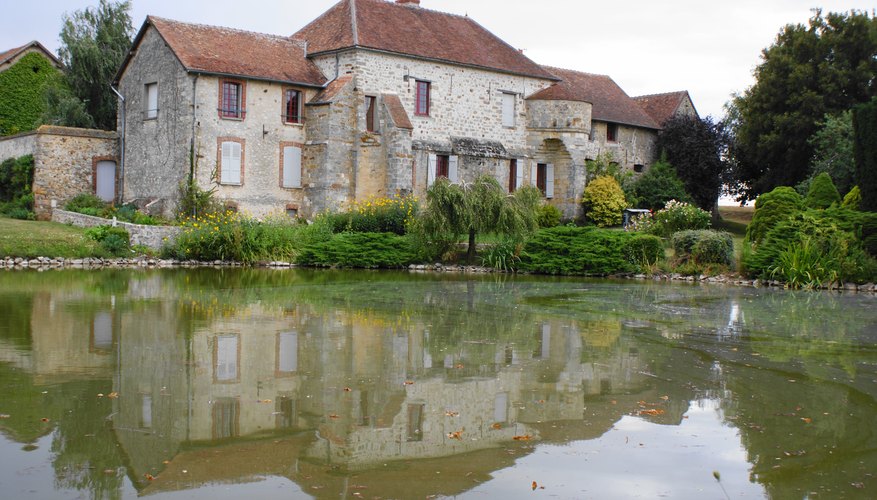 Any adequate manmade pond begins with extensive planning. According to Natural Environment Systems, the more you know in advance, the more efficient your pond will be. If you ask any builder or contractor, they will tell you that a good plan doesn't cost anything, but repairing mistakes because of lack of planning is a costly endeavor. So you want to build a one-acre pond but you need some guidance. Here are some effective tips to remember when building a one-acre pond.
Observation
Observe the area where you want to build your pond. This step can take a bit more time, especially in dryer areas. When it rains in your region, measure how much rain comes into that area. Running water near the pond site is a good sign, and standing water near the pond site is an even better sign. According to Alabama A&M and Auburn University, the majority of a pond's water comes from rain runoff, so it's important to build the pond in a spot that retains rainwater.
Test the Soil
The consistency of the ground will help you decide if your pond will retain water. For instance, sand and gravel will not hold water. Clay, however, works well. The best way to predict the outcome of your project is to drive around and look at the ponds in your region. Look at the water level and judge it against how long it's been since it last rained. If most of the ponds you see are full, it's a good sign. If your ground doesn't seem adequate, other options exist, such as using a pond liner to retain the water.
Dig a Test Hole
Dig a hole as deep as you can in just a few minutes and fill it with water. Observe how long it takes the water to disappear. Once the water is gone, take a chunk of dirt from the watery hole and try to make a ball out of it. If the ball stays together, it's a good sign of hospitable pond soil. Furthermore, put the ball back in the water and see if it will stay together. If it does, your ground is ready for a pond.
Other Considerations
Another factor to consider is preventing flooding from your pond to your neighbor's property. Make sure your shoreline has enough room to spill over without intruding on the neighbors. Additionally, what kind of fish do you want to put in the pond? Whatever you decide, you need to factor all of this into your budget. Building a pond is not just digging a hole and filling it with water; it is planning everything down to the types of fish and the ways the pond will be used. Adequate planning will keep your costs low and your quality high.
Hiring a Contractor
According to Alabama A&M and Auburn University, unless you have the proper equipment to construct the pond, you should hire a contractor to complete the project. You can find a list of pond contractors at your local Natural Resources Conservation Service office, and talking to people who have had ponds built is always a great idea. When talking with a pond contractor, ask for references from past clients before hiring someone. Before you contract someone to do the job, give them a set of plans for the project so they can give you an accurate quote and so there are no surprises. To recap, before you hire a contractor, visit your NRCS office for a list of companies, get a quote from several different contractors, ask for references and provide each company a set of plans and specifications (measurements, etc.) for the project.
References