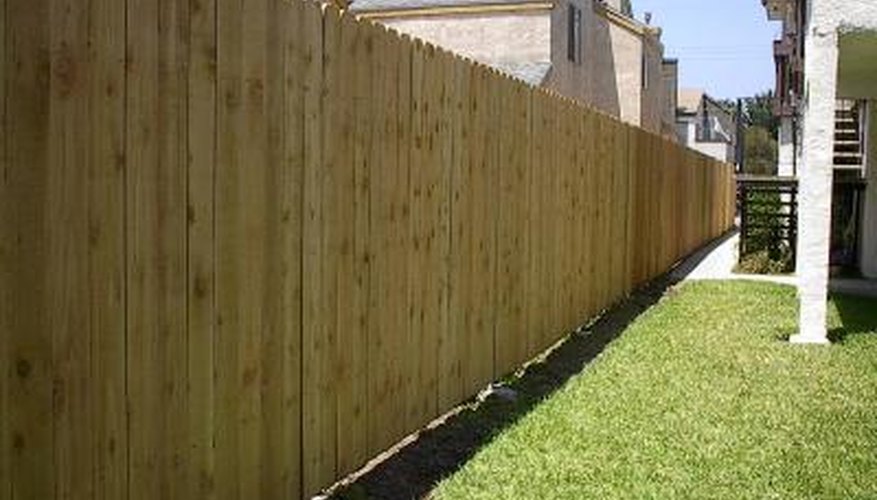 Fences are used to keep others out, to keep pets or animals in, to visually separate different areas and for privacy. While you may not decide to actually build your fence yourself, you may want to design it. This is very useful as the exercise will help you define what your real wants and needs are, even if the builder ends up adding to or modifying your plans later on.
Determine what function your fence will serve. It may be for security, privacy, animal control, sound control or aesthetic purposes (or a combination thereof). Defining the purpose for the fence will guide you to choose certain materials, dimensions and fence styles.
Take measurements of theoretical fence line length, and note any obstacles or difficulties presented by the terrain to be fenced.
Choose the material. Your choice will be determined based on its primary use and affordability. Common materials include wood, block, vinyl and metal. For example, a pipe fence with three horizontal members per panel will work great for horse property but is a poor choice for keeping children from wandering away from a play area. A chain link fence with barbed wire on top is more suited for a high-security application where aesthetics are not important.
Choose the height of the fence. This will also be a function of use. Walk around to different areas and get a look at the sight lines. Have a helper stand on the fence line and raise or lower his hand to give you an idea of how high you should design your fence.
Verify that your final design is in compliance with all local codes and laws. Make sure to also check on any neighborhood zoning ordinances and secure the required permits.