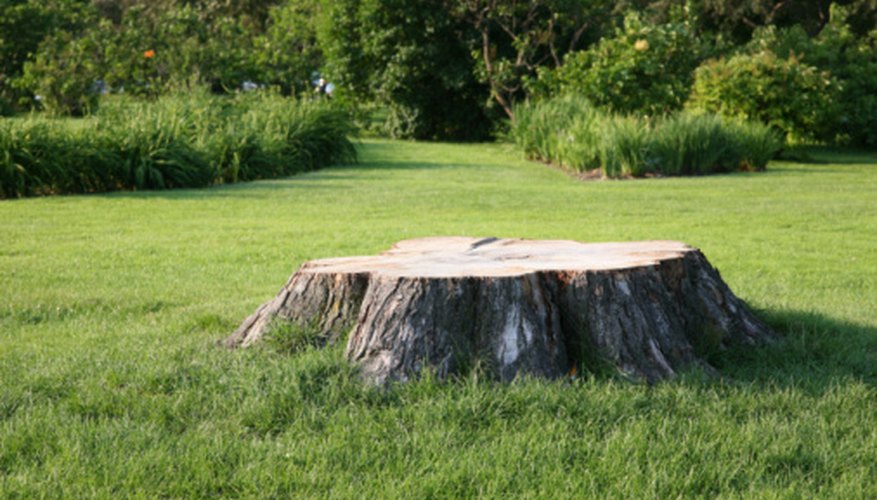 Removing a tree stump is a difficult process; it's easier to make use of one in fun and creative ways. Tall stumps can be made into art or decorated in attractive ways, while short stumps can be used as bases for useful yard elements or disguised to minimize their impact on your yard's appearance.
Decorated Tree Stump
Decorate your tree stump to transform it from an eyesore into an original work of art. You can paint it, hang Christmas balls off of it, or even upholster it. If you have a tall stump, dress it up like a person to catch people's attention. Hang lights on it during holidays. Put ribbons on it on May 1 and use it for a short maypole.
Trellis for Climbing Plants
Plant climbing plants such as sweet peas, clematis or morning glories around the base of the stump. Hang some pieces of wire or twine down the stump to help the vines climb. Let the vines grow up and over the stump, and in the blooming season they will completely cover it with leaves and flowers.
Chainsaw Art
Use the wood of the tree stump as a medium for your sculptural creativity. Using a chainsaw, sculpt the stump into spirals, flowers, or human faces. Use caution when doing this, and don't try it unless you are very comfortable using a chainsaw. When you are done carving, paint your work to make it more colorful and to help preserve the wood.
Blending With Landscape
Shorter stumps and stumps that you don't want to accent or decorate can be made less obvious. The easiest is to plant thick flowers, grass or shrubs around the stump. Evergreen shrubs will hide the stump all year, while flower beds will cover it with colorful blooms. Put a large planter directly on top of the stump and plant climbing and spreading plants in it. These will grow down over the edges of the planter and spread out around the stump.
References