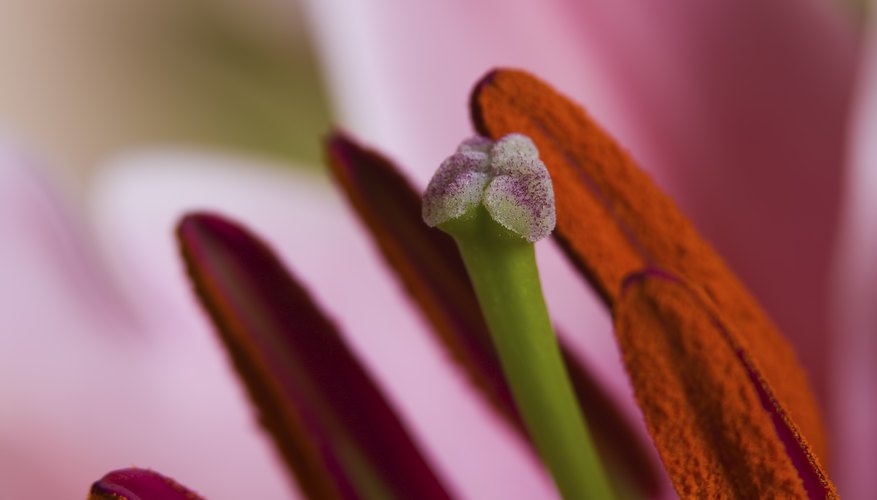 NickR/iStock/Getty Images
If you're a gardener who enjoys a challenge, then breeding new plant varieties may be for you. Creating hybrid varieties of plants involves simple-to-learn techniques that can result in beautiful flowers or tasty new vegetables. You might even discover a variety you like better than the ones available for purchase.
Selecting Parent Plants
The two plants chosen to be cross-bred are called parent plants, and they must be closely related in order to breed successfully and produce a new hybrid plant. They can be different varieties of the same species or different species, but they must be in the same genus. For example, you can cross two daylily species (Hemerocallis spp.) because they are in the same genus. Daylilies are hardy in U.S. Department of Agriculture plant hardiness zones 3 through 11, depending on the variety. The next step in choosing parent plants is selecting the trait you want your hybrid's seeds to have. If you are trying to create a variety with larger flowers, then both parent plants should have large flowers. If you want a hybrid with sweeter fruit, select two parent plant varieties that you know produce sweet fruit.
Crossing Plants
The process of cross-breeding requires transferring male pollen from one parent plant's flower onto the female reproductive part of the other parent plant's flower. The female part of a flower, called the pistil, is in the center of the flower. It looks like a tube with a sticky structure on top where the pollen attaches. Pollen is on a flower's male parts, called stamens. They consist of filaments topped by a pollen-bearing anther. If a parent plant has both male and female parts in each flower, then prevent self-pollination by trimming off the stamens of the flower you will use as the female parent. The best time to transfer pollen from flower to flower is in morning, as soon as new flowers are fully open. Transfer pollen from the male parent to the female parent by either brushing the male flower's anther against the female flower's stigma or by using a small paintbrush to move pollen from the anther to the stigma. Cover the pollinated flower with a paper or cellophane bag immediately afterward, and then label it so you'll know which parent plant varieties you used.
Harvesting Seeds
Seed harvesting and saving techniques depend on the type of seedpod or fruit produced. The fleshy fruit of a plant such as cucumber (Cucumis sativus), which is an annual, should be picked when it is fully ripe. Scoop out the fruit's seeds, and place them in a container with a little water. Let that mixture sit for a few days, stirring it occasionally, and save the seeds that settle on the container's bottom. Squash (Cucurbita pepo) seeds simply can be scooped out of the fruit and dried on paper towels. When seeds are in pods, such as those of pea plants (Pisum sativum) and certain flowers, cut the pods from the plants when the pods turn brown, and then dry them for one to two weeks before removing the seeds. If the seeds develop on a flower head with no pod, as they do on dill (Anethum graveolens), then cut the flower stalk before it dries completely, and place the stalk upside down in a paper bag to finish drying. All kinds of seeds should be stored in paper envelopes after the seeds are fully dry.
Taking the Next Steps
Crossing two kinds of plants results in what is called an "F1" or a "conventional" hybrid. Repeating the original cross-breeding that produced the hybrid is necessary every time you want new seeds, however. The seeds of an F1 hybrid have lots of genetic diversity. When those seeds are harvested and germinated, though, the resulting F2 hybrid plants demonstrate a wide range of characteristics. If you like a certain trait of some of the F2 hybrids, you can select only the plants that display that characteristic and continue breeding them and saving seeds from the resulting plants that have the desired trait, developing a new variety. It takes several plant generations to result in a stable variety from F2 hybrids.