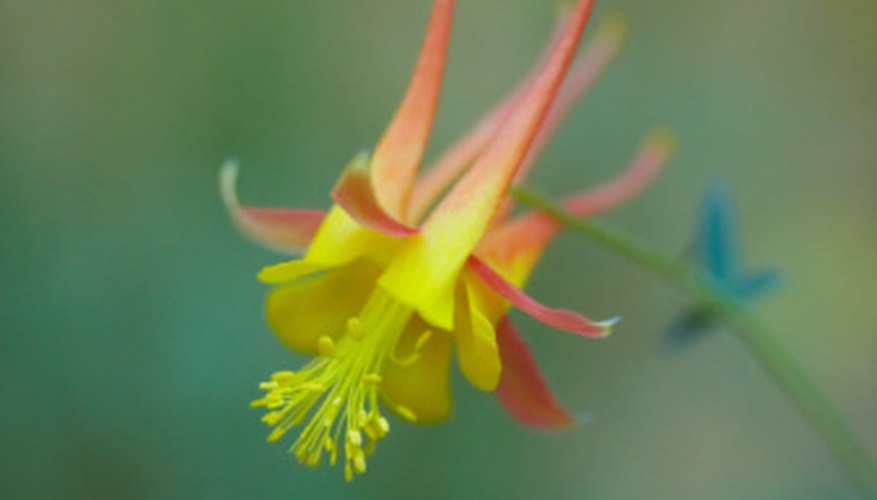 Jupiterimages/Photos.com/Getty Images
Landscape locations only receiving morning sun are difficult to populate with attractive plants. Many annual flowering plants require abundant sunlight and don't tolerate weak morning sun. However, a number of perennial flowering plants grow well with exposure to morning sun. Perennials reappear in your landscape year after year with minimal care and provide attractive foliage and colorful blooms in shady areas throughout the growing season.
Columbine
Columbines (Aquilegia canadensis) are short-lived perennial flowers native to North America. The plants' size varies from tall specimens such; as Sunlight White that grows up to 3 feet tall and produces numerous large, white flowers, to Danish Dwarf that only grows 5 inches tall and has bright-red flowers. Columbines grow in a wide variety of soil conditions, and most survive with only morning sun, according to Colorado State University.
Hosta
Hostas (Hosta undulata) are common landscaping plants for home gardens that produce numerous small flowers on tall stalks. Hostas have attractive foliage varying in size, shape and color. Most hostas grow best with morning sunlight and shade through the day, according to Ohio State University. They are hardy plants requiring little attention once established. Flowers appear in summer and are commonly purple, white or pink in color.
Coral Bell
Coral bells (Heuchera sanguinea) are small, perennial flowers that grow well with only morning sun. Over 50 species of coral bells are readily available for use in home gardens. Coral bells vary greatly in size and inflorescence color, and multiple plants can be placed very close to one another creating a colorful combination of flowers in your garden. Ensure that your species is tolerant of morning sun.
Turtlehead
Pink turtlehead (Chelone lyonii) is a small, herbaceous perennial producing numerous bright, pink flowers in summer. Turtleheads need moist, well-drained soil to grow in home gardens. The plants tolerate morning sun and alkaline soil conditions, according to the University of Kentucky. Flowers bloom in midsummer and last for four weeks.