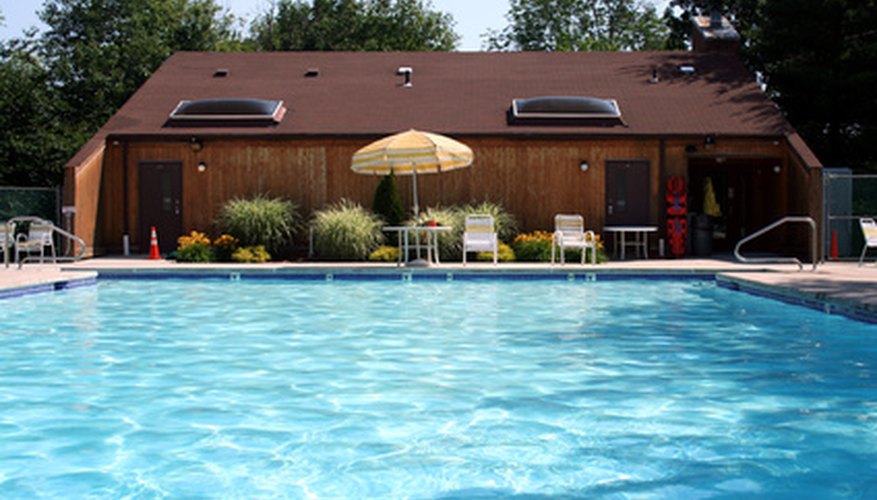 Swimming pool and pool house image by Jim Mills from Fotolia.com
Doughboy Recreational manufactures a variety of pool supplies including pools, liners, pumps and their popular Doughboy sand filter. Their sand filters use #20 grade Silica sand as a means to clean your pool water. They can carry up to 100 pounds of sand and feature an easy-to-use sand loading port.
Install the sand filter about 5 feet from the pool wall on a firm, level patio stone.
Purchase silica sand from your local pool supply store. The unit is designed to hold exactly 100 pounds of sand. Remove the two bolts from the tank flange and lift the cover. Inside there is a pipe extending straight up. Put a bag over the pipe to prevent sand from entering. Pour the sand into the filter tank until it is about 1/2 inch from the top flange. Replace the cover and bolts.
Install the hoses as specified the manual provided with your filter. If you fail to follow the exact instructions, you can damage the system. The supply and return lines should be partially buried to prevent tripping.
Control the four operating positions for your sand filter. To change the positions on the filter make sure it is turned off. Press down on the filter handle so the pressure frees it from the locking tab. Turn the handle to the desired position, allowing it to click into place. The four positions are: "Filter," "Filter to Waste," "Pump" and "Backwash."
Turn the valve handle to the "Filter" position. Start the pump. If your pool was newly filled it will require about 24 hours of continuous filtering. After that, depending on the size and amount of use, you can reduce the filtration time.