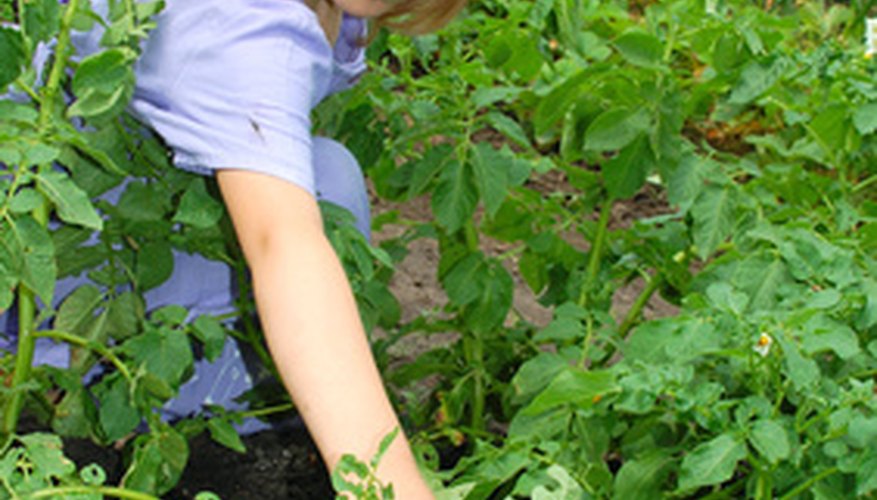 Imagine picking ripe tomatoes, beans and lettuce from your garden. Homegrown produce tastes better and is less costly than grocery store varieties. Vegetables grow well in most regions of the United States and require only one or two hours of maintenance per week. So if you have even a small plot of ground, pull out that hoe and some seeds. Soon you'll have a thriving vegetable garden.
Select the sunniest location in your yard for your vegetable garden. Choose a level or slightly sloping site. Avoid low areas where cold air collects.
Remove any weeds, rocks or debris and lay 1 inch of compost and 1 inch of manure on the soil. Dig to a depth of 6 inches with your shovel, turning the soil over and working the compost and manure in. Rake the soil until it is smooth and level.
Consult a local nursery or county extension office for vegetable varieties well-suited to your area. Select fast maturing varieties if you live in an area with a short growing season (less than 90 days). Buy high altitude-adapted seeds and plants if you live in the mountains.
Plant cool season crops such as lettuce, peas, onions, carrots and spinach four to six weeks before the last anticipated frost. Dig furrows in your garden with a hoe about 1/2 inch deep and drop the seeds in. Space the seeds 1 to 2 inches apart according to seed packet directions. Pat soil gently over them.
Plant warm season crops such as tomatoes, beans, corn and squash after the expected frost. Warm season crop seeds are bigger than cool season seeds, depending on the vegetable. Plant them 1 to 2 inches deep, following seed packet directions as previously directed.
Grow tomatoes, peppers and eggplant from nursery-grown plants. These crops take a long time to grow from seed and won't mature before frost in most areas of the United States. Dig a hole as deep and 1 to 2 inches wider than the plant. Gently remove the plant from its container and set it in the hole. Back-fill the hole with soil, patting down with your hands to remove any air pockets.