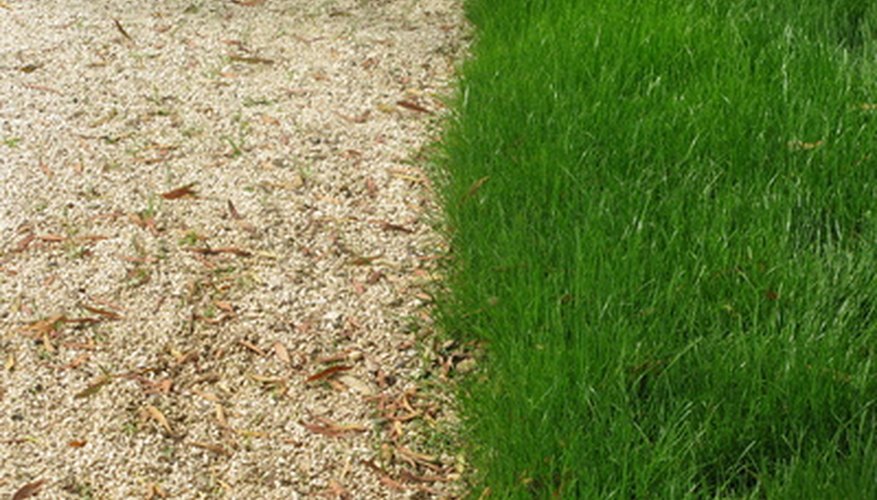 Turf grasses like Bermuda and St. Augustine provide lush green growth for children and pets to play on, with fairly set maintenance and care needs. Grasses like crabgrass, however, invade those lawns and can choke out the turf grass if they go to seed. If you notice crabgrass in your lawn, start by raking, reseeding with turf grass, then keeping your grass cut long.
Water your lawn to soften the ground, then rake it thoroughly. Focus on areas that have the low, matted growth of crabgrass. Turf grasses grow straight up from their roots, while crabgrass runs along the ground and puts down frequent roots at grass joints. The raking will leave turf grass intact but pull up any crabgrass.
Cut your lawn with a grass catcher on the mower, which will gather the newly loosened shoots of crabgrass but leave turf grass rooted in the ground. Empty the catch bag into a plastic bag and throw it out to keep the crabgrass seeds from spreading.
Pick any remaining crabgrass stems and roots from your yard by hand and throw them away. Spread compost and topsoil on any bare spots in the lawn and reseed these areas with lawn grass to choke out any remaining crabgrass. Always keep your lawn grass at 2 to 3 inches, even after mowing. Crabgrass can't grow in the shade and will never take root in lawns with longer grass.