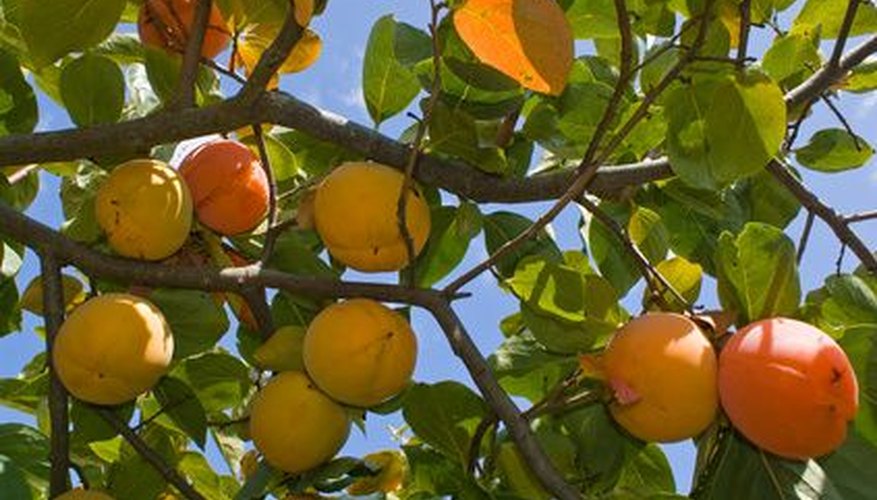 A Persimmon tree is a native fruit tree with orange-colored fruit. The tree has dark green leaves and small white flowers in the spring. After the flowers fade, they are replaced by orange fruit that ripens in mid autumn. The Persimmon tree grows from the entire east coast to as far west as Texas and Kansas.
Appearance
Persimmon trees have unique bark that is said to look like the hide of an alligator. The tree bark is dark gray and appears to have square shapes embedded in the bark. Their leaves are dark green, approximately four inches long and have a tough, leathery appearance. In addition to delicious fruit, the Persimmon tree shows beautiful, bright golden color in the autumn. The golden and wine-colored fall colors of this tree have made it a very popular ornamental tree.
Where It Grows
The Persimmon tree is an attractive tree that can be as tall as 50 feet and may grow to be 25 feet wide. It grows slowly, but easily in full sun and partial shade and will tolerate significant drought after it has been established. The Persimmon tree grows successfully in a variety of soils. For greatest growth, however, a Persimmon tree should be grown in rich sandy soil.
How It Grows
Plant a young Persimmon sapling at the edge of other tree stands or in open areas. Mature Persimmon trees do not do well when transplanted. When Persimmon trees are planted in the proper environment and when they have proper care, they should bear fruit after six years and continue to bear fruit for another 50 years. Do not harvest the fruits until after a hard frost has occurred because the fruits will be too sour if harvested earlier.
The Food
The Persimmon tree is a favorite of many birds and animals for both its fruit and leaves. The buds and leaves of this tree feed many wild animals, including coyote, fox, raccoon, squirrels, possum, deer, quail and wild turkey. These birds and animals also assist the spread of natural Persimmon groves by distributing the Persimmon seeds. The Persimmon tree is a major source of food for wildlife in the forest.
The Wood
The wood of a Persimmon tree is very dense and hard. When the wood has just been cut, it is white in color and changes to an off-white or gray color with time. The very center of the wood is dark. Persimmon wood is known for its uniform texture and resilience to pressure. It is often used to make golf clubs, tool handles and pool cues. Persimmon wood is also a common and popular veneer and flooring wood.
References