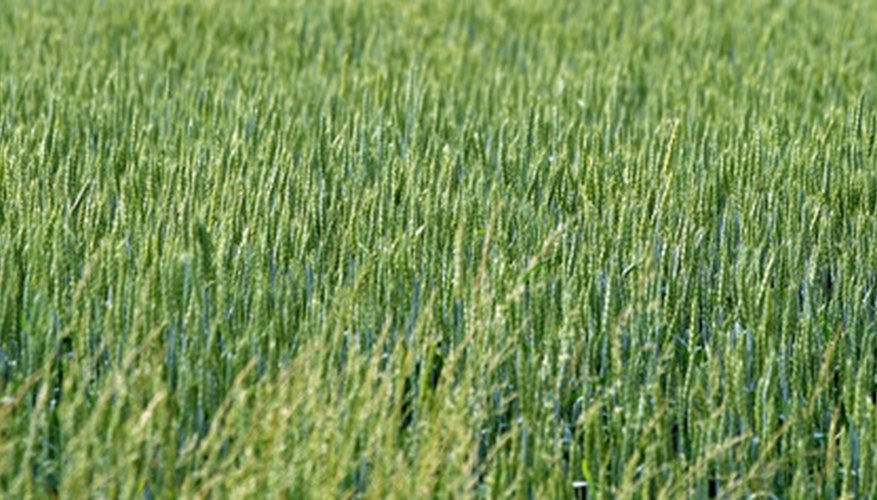 Wheat grass is mostly a food source for grazing cattle, sheep or horses. By crushing the freshly sprouted leaves of wheat grass, you can make a juice that some people claim supplies nutrients, helps the immune system and gives antioxidant protection, although none have been proven scientifically. This grass is easy to grow if planted in a soil that's highly mineralized and in the right environment.
Geography
Wheat grass grows in sagebrush, salt desert shrub and juniper areas of elevations below 5,500 feet, where there's an annual precipitation of less than 10 inches, notes Utah State University. It grows on lake bottoms, desert flats, depressions, in saline and clay soils. It also can be found growing in drainage areas where runoff water accumulates.
Growing Temperatures and Time Frame
Wheat grass should be grown in a temperature of between 60 to 70 degrees F with sufficient air circulation, according to Wheatgrass.com. When grown in warmer temperatures, wheat grass grows quicker; when grown in a cooler temperatures, it has more time for drawing up rich minerals. Increase air circulation if temperatures climb above 80 and do not grow wheat grass in temperatures of more than 90.
Types
Western wheat grass produces thick stands on clay soils, but growing it on saline soils can cause sparse stands. It's drought resistant and can spread by its underground rhizomes. This variety can also survive flooding in shallow lake beds prone to too much surface drainage or overflow. Crested wheat grass is a strong perennial bunch grass with abundant leaves. This grass has deep roots and is drought-resistant. Begin growing crested wheat grass early in spring. When it's cut early, it produces an excellent quality of hay. Propagation is by seeding. Intermediate wheat grass is a cool-season perennial grass that's not as hardy or drought-tolerant as crested wheat grass. It grows best in well-drained and fertile soils with adequate moisture and can tolerate alkalinity.
Considerations
Wheat grass is prone to develop mold around its roots, which could be caused by overwatering. It should only be given enough water to keep it moist. Limp or droopy wheat grass can be due to excess sun exposure. This type of grass doesn't need direct sunlight and does best when grown in indirect light such as under a shady tree.
Warning
Because wheat grass can have bacteria, mold or other harmful substances, be sure to thoroughly wash it before eating it raw. Contamination from germs on wheat grass can cause headaches, warns Columbia University. Anyone who experiences symptoms, such as a swollen throat or hives, should stop eating wheat grass and seek medical attention.