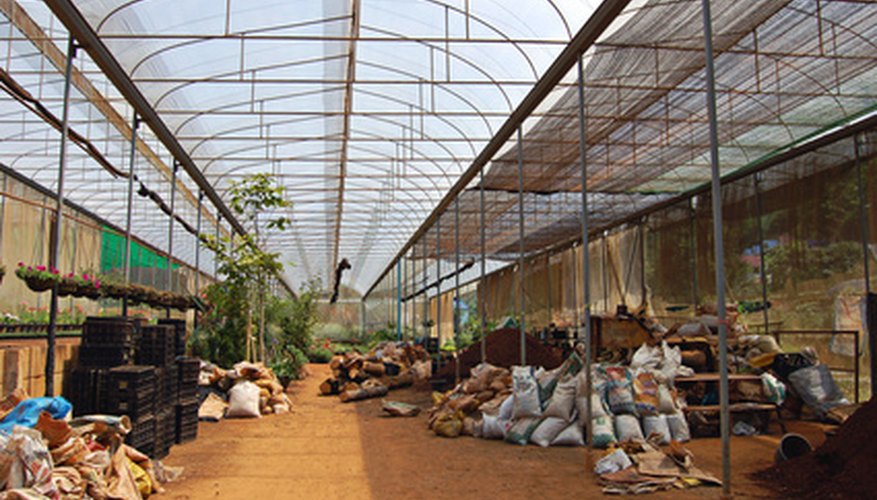 Greenhouses allow solar heat into the environment and trap it in to promote the rapid growth of plants. This helps protect the plants from environmental threats. Due to the small trapped environment, only selected fertilizers and chemicals can be used to encourage growth and fight weeds. Misuse of chemicals within this environment is both illegal and dangerous for humans and plants.
Greenhouse Chemicals
Greenhouses are enclosed areas that let in sunlight and heat. They become trapped to create a perfect environment to encourage the growth of most vegetation. Without wind or air turbulence, such chemicals as pesticides and fertilizers can concentrate into the air to dangerous levels. Inhalation of chemicals can have long-lasting consequences for both owners and their employees.
Macronutrients
All plants need three macronutrients applied to promote healthy growth, reproduction and an increase in plant productivity. These elements are nitrogen, potassium and phosphorous. The amount present in all fertilizers is known as NPK; it allows gardeners to provide their plants with specific requirements. A deficiency in any of these nutrients can leave a plant susceptible to environmental threats and less vitalized, with poor fruit production.
Trace Elements
Greenhouse plants need trace elements known as micronutrients to promote growth. Some of these elements are commonly known, such as iron, manganese and boron, which will provide the resources for healthy plant life. Limestone is another ingredient in healthy gardening and is used to alter pH levels, which control the nutrients each plant can absorb from the soil. As an alkaline ingredient, it raises the soil pH and alters the environment for plants that prefer such soil conditions.
Pesticides
Pesticides must be controlled within closed environments like greenhouses to prevent the poisoning of both plants and humans. The heated environment makes it too dangerous for law enforcers to allow gardeners to use most herbicides. Check manufacturers' instructions and current laws for specific guidelines on usage before applying any pesticides within your greenhouse.
Tips/Warnings
All gardeners within a greenhouse should wear properly regulated gardening outfits to protect lungs, skin and eyes from chemicals or fertilizer elements that may be evaporated into the air, including smokes, mists and fogs. Gardeners should also check with the EPA Worker Protection Standard to have an up-to-date look at workplace requirements that can help keep everyone safe.